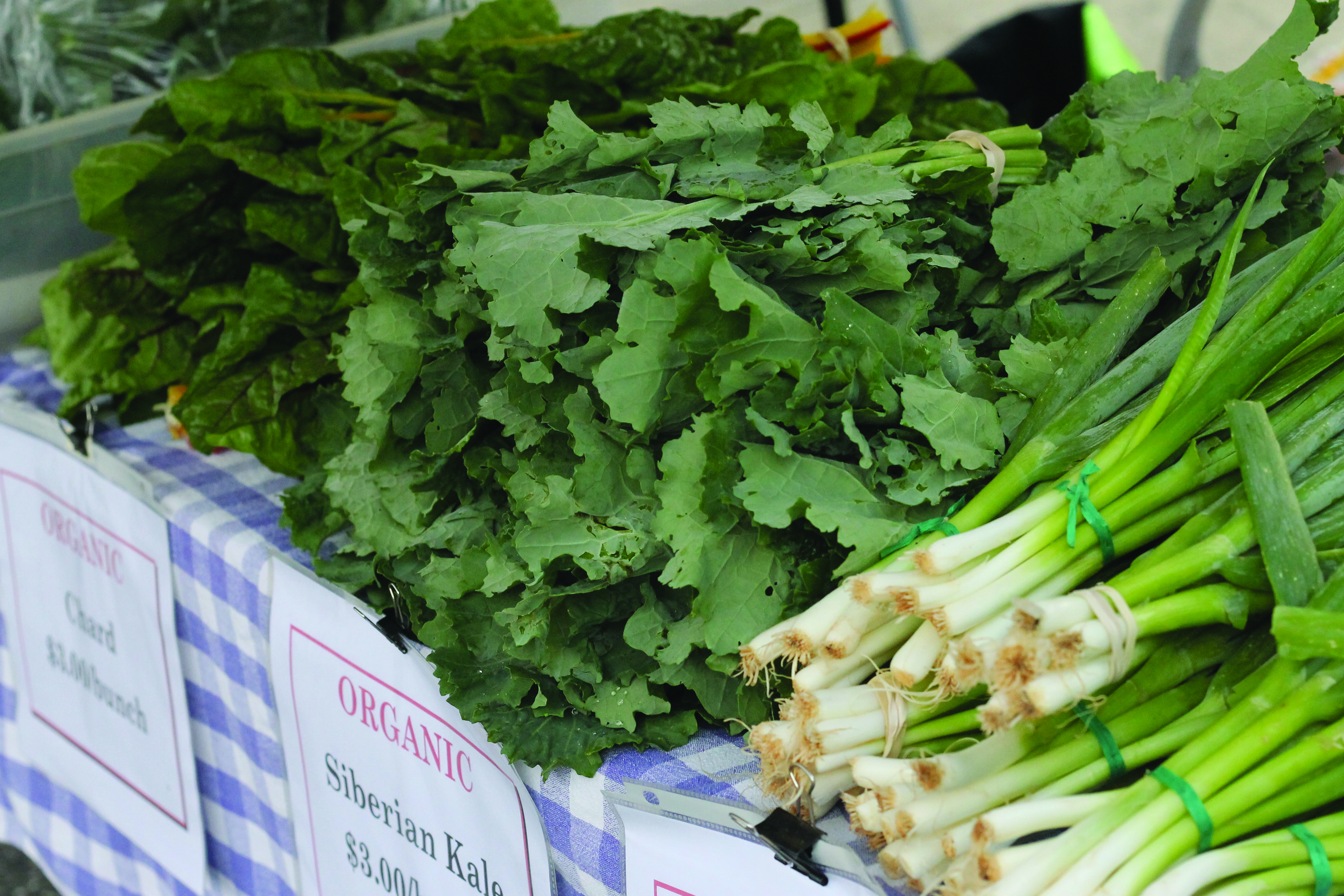 Where's the one place you can go to find the freshest food in town, see a cooking demo, entertain the kids, pick up some gardening tips, hear live music, and mingle with friends and neighbors? The Apex Farmers Market!
The tents go up on Saturday, April 22, when the Market opens in their familiar downtown spot in the Apex Chamber of Commerce parking lot. There's a lot to celebrate as Market organizers close out a successful first-ever Winter Market and begin their third regular season with loyal vendors, a lineup of monthly special events, and a growing reputation.
Apex has had a farmers market, on and off, since the early 1900s. Originally in the Halle Center, the Market moved across the street to the Chamber of Commerce area when years of growth saw the town expand its property and its population. But in 2014, to the casual observer, the Apex Farmers Market was all but closed. Only a handful of vendors were regulars and Apex leaders were skeptical about the Market's future.
A Market Revitalized
With the start of the 2015 season, a new all-volunteer Board of Directors began rebuilding the Market and its position as an Apex mainstay. Market Manager and Educational Coordinator Carlaine Reynolds says, "It's amazing what we've been able to accomplish. We got a lot of compliments toward the end of 2015, and all through 2016. We're passionate about the Market and having it be a resource for the Town of Apex."
The Apex Farmers Market is a producer's market. With very few exceptions, products must come from within a 100-mile radius. "We keep our fees low for our farmers and vendors so that they can afford to sell directly to the public," Reynolds explains. "Almost all of them are doing organic practices. Our job is to give them a platform."
Unlike other markets, the Apex Farmers Market follows a strict 80/20 rule in order to avoid becoming a craft market. This means that 80% of the vendors offer food and 20% are crafters or non-food producers. However, as Reynolds points out, "Even the crafters have to produce their own. We have no resale."
The Apex Farmers Market's objective is to make healthy food available and affordable, and that goes for disadvantaged consumers as well. Shoppers can use SNAP and EBT cards and they've been able to receive a dollar-for-dollar match through a generous grant from RTI. This year, the Market will also sponsor Farmer Foodshare as a collection point for donations to support local hunger relief organizations.
What Can We Expect at This Year's Market?
This year, shoppers can look forward to 35 full-time vendors, including six farmers with a wide selection of fresh produce.  A variety of vendors will offer protein (pork, chicken, beef, eggs, and potentially seafood), breads and desserts, coffee and tea, salsa and sauces, mustards, granola and specialty peanut butter, honey, and more. Customers can also find soap, wood crafts, crocheted and knitted products, and dog treats.
Back again will be the children's programs, live music, and the welcome tent where customers can ask questions about the Market and its sponsors. Enjoy samples and demonstrations at the popular chef's tent, and watch for a food truck from time to time. And, of course, monthly special events will educate and entertain all ages. We'll celebrate strawberries in May, blueberries in June, and peaches in July. The "Dog Days of Summer" event in August will feature a hot dog fundraiser. Compete in September's egg-themed "Egg-stravaganza" cooking contest. Then join us as we finish the season with an October Harvest Festival.
Kickoff and Opening Day
There's a lot to look forward to, and the fun starts even before opening day! A season kickoff on April 8 will include a food truck rally, a plant sale, and a meet-and-greet for the public. As Reynolds says, "Know your farmer, know your food. They're not going to be set up in booths, but you can come down and meet the farmers, get to know your producers, and have a chance to chat."
Opening day is April 22 and the second annual "Race to the Market," sponsored by Fit & Able Productions, will officially (and literally) get things off to a running start. As the Market is opening its doors, the whole family can begin the day with a 3.5- or 5-mile race and a "Kids Dash," all of which finish at the Market. Visit fitandable.net for race details and registration.
No Such Thing as Too Many Volunteers
For Reynolds, market management is "like putting on a wedding every single week." It's a daunting job that requires the help of many volunteers. Reynolds explains, "I have six tents—just for our programs—to put up in the morning before the vendors come.  I need early risers. I get there at 6:30am and I need at least one more person consistently there at 6:45am."
If that's too early for you, there are other jobs to choose from, such as taking pictures, greeting customers, helping in the program tents, monitoring traffic, cleaning up, and assisting at special events. By Reynolds' observation, "The biggest job is helping vendors unload and get into their spots as quickly as possible. They drive in and around the parking lot, we unload their cars, then they have to move their cars right away so the next person can come in. We keep that going as quickly and smoothly as possible. They have to be ready to go at 8:30am."
Looking Ahead
Perhaps an even greater need than volunteers is donations, grants, and sponsors. With the Market supporting the missions of other nonprofit organizations, it's easy to overlook the fact that the Market is a nonprofit, too. "I'm looking for that angel donor," says Reynolds. "We want to continue to build our good reputation in the Town and be an asset to other small business owners. We draw people in so they shop in Downtown Apex."
The Market's Board members have faith that the Apex area is not only able to fully support a farmers market, but this Market can become what Reynolds calls, "a Saturday morning family destination." However, like any other growing organization, the Market needs dedicated people firmly in place to help make that happen. The Market Manager is a position that justifies full-time focus. Reynolds currently receives a part-time stipend, but the goal is to be able to fund the position as a full-time job.
Reynolds is all-in when it comes to the Market because, "If we don't help our farmers to be successful and stay on their land, we're not going to have local food. We're not going to be able to keep our money local. Every dollar spent in the Apex Farmers Market stays within that 100-mile radius."
This year, "Eat local! Buy local!" and make the Apex Farmers Market your Saturday morning family destination.
For information about sponsoring the Apex Farmers Market or becoming a Market Day Volunteer, visit apexfarmersmarket.com. You can also check out "Apex Farmers Market" on Facebook for updates, operating hours, and announcements, or email specific inquiries to manager@apexfarmersmarket.com.