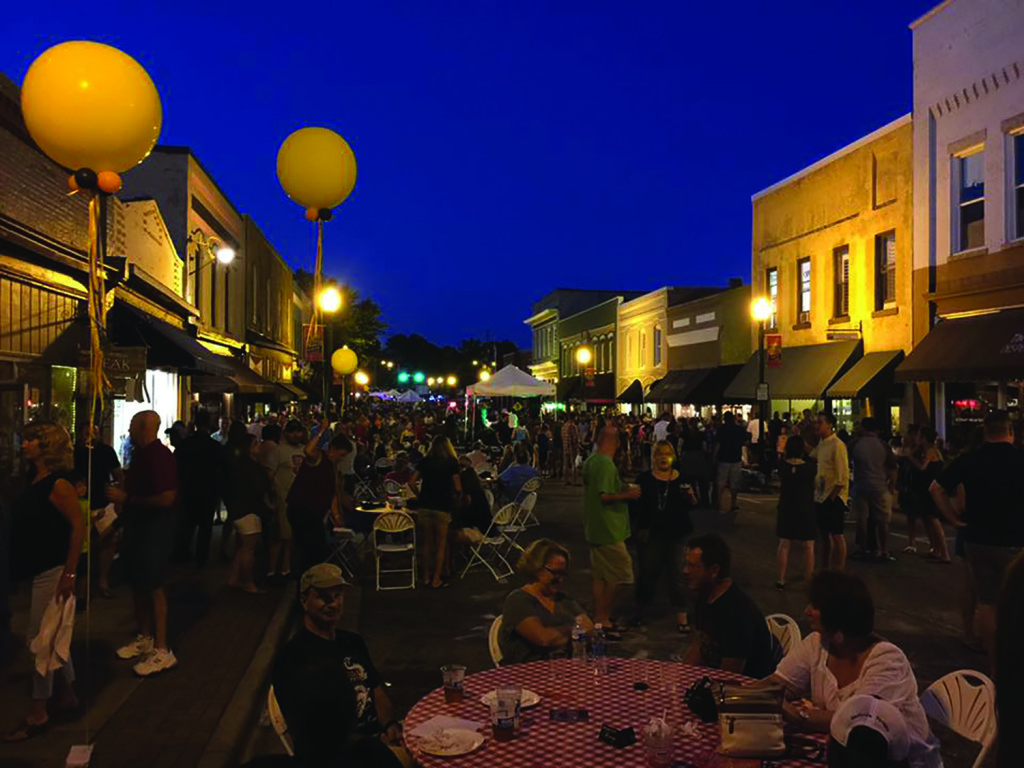 For one Saturday in September, historic downtown Apex will be transformed from a quiet, tranquil town into a music, food, and fun-filled block party you won't want to miss. The seventh annual Apex Music Festival (formerly known as that Apex Jazz Festival) will be held from 3:00pm to 12:00am on Saturday, September 16, 2017.
The brainchild of the Apex Downtown Business Association, the music festival has grown in popularity since their first event and this year they are expecting 25,000 music lovers to attend. The ADBA is focused on "facilitating teamwork, communication, and promotional activities among business owners, community leaders, service organizations, citizens, and sponsors."
For the third year, the ADBA has asked Populate Productions to help put on the event. Angela Slater-Fisher, CEO, and Founder of Populate Productions and the event director for the festival, describes the event as "An adult-focused night out on the town, featuring wonderful live performances on Salem Street. This event is a fundraiser backed by the Apex Downtown Business Association with the intention of showcasing Historic Downtown Apex and raising funds to revitalize Salem Street." John Demers, a member of the ADBA and chairman of the 2017 music festival, notes that this is a truly unique event for downtown Apex. While the music is appropriate for festival-goers of all ages, this event is geared mainly toward the adults, something that isn't typically found at most events held throughout the year.
You can't have a music festival without amazing bands, and this year's festival is sure to have something for everyone. In addition to the main stage area, performances will be held throughout the day in several indoor and outdoor locations along Salem Street. For ten dollars, festival-goers can purchase a wristband which is their ticket to any of the 10 pub venues and performances. There will also be a promotion code that will be published at the beginning of August that will allow those that purchase tickets from certain downtown businesses to receive a buy-one, get-one-free offer. Be sure to keep an eye on the Apex Music Festival Facebook page for details.
Some of the bands that will be performing include:
Blackfoot Gypsies- This two-piece band from Nashville, Tennessee is described as having a blend of blues, punk rock, southern rock, soul, Americana, and country.
Molly Stevens-This dynamic performer from Macon, Georgia has recently taken Nashville by storm with her soulful tunes.
The War & Treaty- A duo out of Albion, Michigan has a dynamic sound of root music, bluegrass, folk, gospel, and soul.
The Magic City Hippies- This group from Miami, Florida is self-described as an "Indie funk band dusted with a taste of hip-hop and baked in an oven of soul."
The list of musical talents that will be performing is growing daily. Be sure to keep an eye on the event's Facebook page for updates on performers.
Not only will the event have incredible music, this year will have more food options than ever.  "This year we have added food carts in addition to food trucks. In the past, we have only had food trucks as an option, this year we have added carts," Demers said.
Some of the food options this year include:
Oak City Fish-n-Chips
Baghettaboutit
Mac-Ur-Oni
S&K Gourmet Funnel Cakes
Rare Earth Farms
Knights of Columbus Grill
Once again, the Music Festival will include a Beer & Wine Garden. Angel Slater-Fisher says that "Drink options will include a selection of domestic and imported wines and a variety of wine options." The Music Festival will be working with Eagle Canyon Wines, and a portion of the proceeds of all bottles purchased for the event will go to our troops and their families. It is important to note that only guests age 21 and over will be allowed to enter the beer and wine garden/main stage area. The vendors in the beer garden will not be accepting cash for beverages. Drink tickets can be purchased at either the ticket sales booth or inside the beer and wine garden/main stage.
If you are wondering how you will know where and when your favorite band will be performing, have no fear! All of the pub venues will have markers and signs in front listing the names and times of the various performers. Maps with all of the event location information can also be picked up at the will-call/information tent and wherever tickets are sold.
Since this is a street festival, there will be several road closures. Those planning to attend should keep an eye on the Apex Music Festival's Facebook page for updates on specific roads that will be closed. Any closures will take place between 1:00pm Saturday, September 16 until 1:00am Sunday, September 17. Parking for the event is free, and there are several areas where parking is available including free parking in the public lot off of Saunders Street, and free parking at Apex Town Hall and Community Center Complex on Hunter Street.
For those who don't mind the walk, free parking is available in the Food Lion Shopping Center off of Laura Duncan Road.
Although the details are still being ironed out, John Demers said that they are in discussions for expansions to the festival for 2018. For those working to put together this amazing event, it is more about how many bands they can get, and how many drinks they sell.  Angela Slater-Fisher says that together with the Apex Downtown Business Association, the goal is "For people to come and have a great time and also to feel good that they are helping to rejuvenate and keep Historic Downtown Apex alive." One thing is certain, the 2017 Apex Music Fest promises to be a day full of great music, delicious food and memories to last a lifetime.
Additional and updated information about music, vendors, tickets, and parking can be found on the Music Festival website (apexmusicfestival.com), on Facebook (apex music festival), on Twitter (@apexmusicfest) and Instagram.