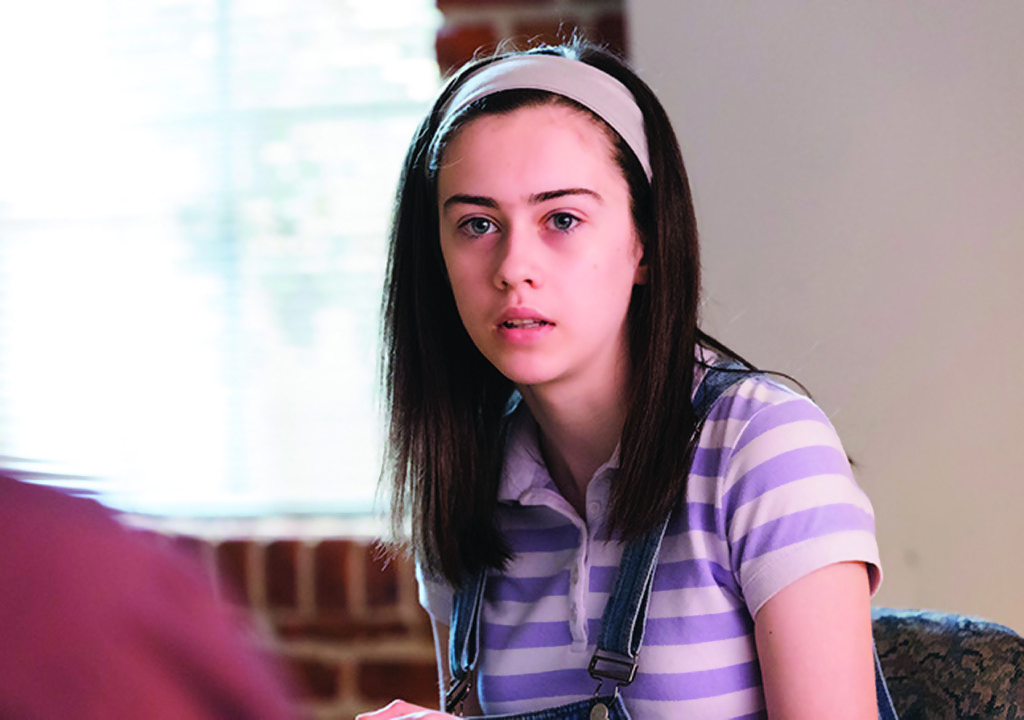 For any budding actor, landing a job on a hit primetime show is a dream come true. For 16-year old Apex High School student, Susanna Skaggs, this dream became a reality.  
For the final season of the show Halt and Catch Fire on AMC, Susanna played Haley Clark, the introverted, technology loving teen forging her way in the world of the 1990s. 
The middle of three children, and the only girl, Susanna found her love for acting after her younger brother started paving the way: "I first really got into the idea of acting when my little brother started to do it and he got into a play at a local theatre. He got to work with all these cool adults and do a really artsy show, and it seemed like fun," she said.  Once the seed was planted, there was nothing standing in this young actress' way. Susanna has worked with several local theatre companies including Raleigh Burning Coal Theatre Company and Moonlight Stage Company. When asked what she enjoys about acting, Skaggs said "I enjoy living out moments I would probably never have in my real life. It's so interesting to me that everyone's life is so completely different and you never know what their exact experience is. Being able to crawl into someone else's brain and live there for a while is really cool."
The teen years inevitably have their ups and downs. Changing social groups, new freedoms and new responsibilities seem to pop up over-night.  Being a teen with responsibilities and playing a teen with an entirely different set of drama and life challenges would seem daunting to most adults. Susanna finds strength within her family and her biggest inspiration, her mom: "She never stops encouraging me and gives me such amazing advice." During the taping of the show in Atlanta, Susanna always had her family with her and they were able to experience this opportunity right along with her. The fact that the show was taped close to home helped to ease any sense of homesickness she may have felt: "when we went to Atlanta, we always drove, so we got to go home a lot. Missing home wasn't a big problem for me," she said.
With her support and inspiration from her family, it was now time for Susanna to find her inspiration for Haley.  "I love playing Haley Clark. She is so smart and loves technology and makes her own website in the 90's. I'm pretty sure that was a very hard thing to do for most adults back then," she said of her character. Drawing from suggestions from her co-stars, Susanna began listening to a musical called Fun Home. Fun Home is a musical adapted from a 2006 graphic memoir of the same title. The musical follows the main character as she discovers her own sexuality, her relationship with her father, who is gay, and tries to understand his life and the mysteries around it. "I love that story of the musical, and Little Alison really reminded me of Haley, so I thought of her a lot [while filming]. It is such a beautiful show and it truly inspired me," Skaggs said.
As much as Susanna loved playing the role of Haley Clark, when asked what her favorite part of being on the show was she replied, without hesitation, "making friends with everyone on the set!" Not just the actors on the set, but all of those involved, "I especially liked bothering the props department for stickers and talking to the sound department during my breaks. Everyone was so nice!" But playing Haley wasn't without its challenges. Like any teenage girl, Susanna's character went through several emotional and physical changes. Throughout the show, Haley sometimes struggled to find her way in a technology world that is just beginning to explode and that, at the time, was male dominant. Not unlike many teens, Haley struggled with school and her relationship with her parents and family. Haley also found herself questioning her sexuality and the struggles surrounding that. For Susanna, this was a trait in Haley that she thought was important and needed to be addressed: "I loved that we got to see Haley question her sexuality this season. She really struggles with it at some points, but you know she has so much support from Joe [her father's friend] and her mom. I think that's really awesome." Haley also goes through a physical transformation which required a bit of a change on Susanna's end as well. During the season, Haley decides to cut her hair. Now, this may not seem like a huge physical alteration, but ask any teenage girl and you will find out that this can be a monumental moment. This was no different for Susanna: "It was a pretty difficult decision to cut my hair for the role instead of using a wig for when Haley cut her hair short, but I love my hair now and I'm glad I did it."
Making sacrifices is sometimes of part of an actor's job, but Susanna takes it all in stride. Traveling between the Triangle and Atlanta has not stopped this teen from doing all of the "normal" stuff that her peers are doing. She's taking driver's ed, and is continuing to do improv with her acting friends on the weekends. Her creativity can be found in most everything she touches. She writes and creates whenever she can. As for her friends at home, many of them like to use Susanna's time on Halt and Catch Fire as their "fun fact" about her when they introduce her to someone new, "It's weird for complete stranger and awkward for me to explain, but not weird for my close friends," she said. When asked if she has been recognized in public as "that girl who plays Haley," she said that "I haven't been recognized yet since it's such a niche show, but maybe when it comes out on Netflix?" Her refreshing attitude about her success and talent is surely a testament to her parents and their raising of such an amazingly humble young woman.
Susanna doesn't plan on stopping now. After high school, she hopes to "take a gap year to audition and see how things go in Atlanta or Los Angeles, and then I might do a conservatory or intensive for a few years, but nothing is written in stone," she said. Though her path may be wide open, Susanna knows what she wants and knows the characters she would like to portray. "I really want to work on projects that show girls my age in a real true-to-life way. I want to be part of something that shows how teenage girls are smart, funny and complex, not just the stereotypical boy-crazy, phone-obsessed, obnoxious ditz. Giving girls interesting story lines that have nothing to do with love triangles or relationships. Isn't it way more interesting to see characters with real strengths and problems?"
Though new to screen and film, Susanna Skaggs is no doubt ready for whatever the acting world throws at her. She is ready to challenge the stereotypes and wants to cultivate new ideas in this world she is now a part of. There is no doubt that people are taking notice and finding that this local star is going straight to the top!