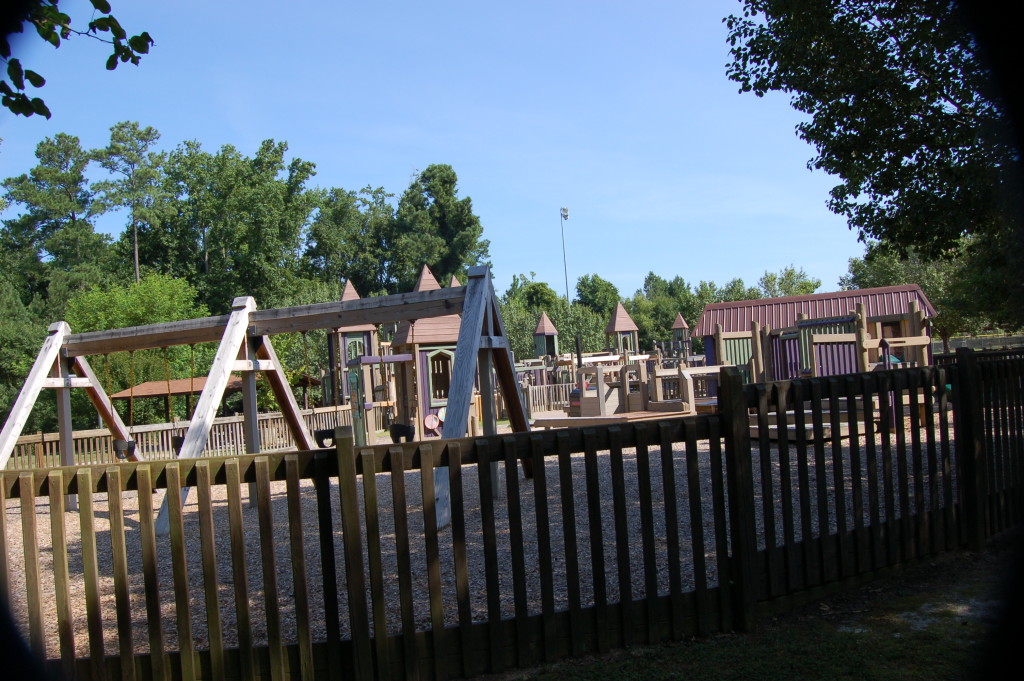 As we approach the cooler months, parents and children love to take advantage of the beautiful weather with outdoor activities. The park is the perfect place to get fresh air, make friends, and maybe burn off enough energy for an afternoon nap! We are fortunate to have so many wonderful options in the Apex area with something for every little person to enjoy. While the park is a utopia of unrestricted running and climbing for children, unfortunately, it can also have some hidden dangers that parents need to be aware of. Below are some tips to help ensure the trip to the park doesn't end with a trip to the emergency room.
Inspect the equipment
Gone are the days of metal equipment that burned the minute your skin touched it. We are fortunate to be in a time where safety is the main focus for all playground equipment in our local parks. But while we no longer need to worry about our children flying off of a swing onto the cement pavement, we still need to be cautious and aware of the equipment our children are playing on. According to the Centers for Disease Control and Prevention, each year emergency departments in the United States treat more than 200,000 children ages 14 and younger for playground-related injuries. Of these injuries, 80% are caused by falls and 56% are fractures and contusions/abrasions. The best way to avoid these injuries is to be proactive and inspect the equipment before your child starts playing.
What to look out for
The U.S. Consumer Product Safety Commission has collected a list of hazards to look out for. Here are just a few:
Improper protective surfaces: Surfaces should be made of wood chips, mulch, wood fibers, sand, pea gravel, shredded tires or rubber mats and should be at least 12 inches deep.
Protrusion hazard: Beware of hardware that is capable of impaling or cutting a child (bolts, hooks, rungs, etc.), or catching strings or items of clothing. Children should never wear drawstring hoodies at a playground.
Head entrapment hazards: There should be no opening that measures between  3 ½ to 9 inches.
Sharp edges on equipment.
Trip hazards like rocks or tree stumps.
Footwear: Open-toe sandals or shoes with holes in them can cause little toes to get splinters or pose a tripping hazard on uneven surfaces.
For a complete list of hazards to be aware of, visit the US Consumer Product Safety Commission's website www.cpsc.gov.
Make this a device-free time
We have all heard the phrase "stranger danger," and have told our children until we sound like a broken record (do kids even know what those are anymore?) "don't talk to strangers," "don't take anything from anyone you don't know," "tell an adult if someone is bothering you."  But in this world of iPhones and texting and games at our fingertips, it is important that parents, as well as children, are aware of the strangers around them. Make park time a device-free time for you and your children. It is easy to get distracted by a text you've been waiting for or an email that you just need to send quickly. It might be in that instant that you are looking down that your child starts to innocently talk to the nice person who said they would push them on the swing or climb just a bit higher on the monkey bars than their little legs can handle.
Have Fun!
There is nothing children love more than to see their parents act silly and play right along with them. Take this time to run and play with your child, rather than being a bystander. This is a great way to make sure they are staying safe and having fun at the same time.
Apex is full of parks that are sure to please even the pickiest playmate. Here are some of them to check out:
Apex Community Park • 2200 Laura Duncan Rd
160-acre Community Park, 3 ball fields and 2 batting cages, 2 soccer fields, 3 sand volleyball courts, 6 tennis courts, 4 basketball courts (1 fenced for roller hockey), child's playground and swings (ages 2-12), restroom facilities, over 3 miles of developed nature and fitness trails (two miles paved, one mile natural walking trail), picnic areas , grills, outdoor courts for tennis and basketball and fishing dock
Apex Jaycee Park • 451 NC Hwy 55 / West Williams Street
23-acre park offering a picnic shelter, a batting cage, and various athletic fields, picnic shelter with grill, softball fields, batting cage, soccer fields, playground with shade structure, future trailhead Beaver Creek Greenway
Hunter Street Park • 1250 Ambergate Station
12-acre park, softball/baseball field, soccer field, asphalt walking trail, multi-age playground, restroom facility, rentable shelter, dog park (registration required)
Kelly Rd. Park • 1609 Kelly Rd.
25 acres, picnic shelter with grill, playground area for children 2-5, playground area for children 5-12, baseball field, tennis courts, Beaver Creek Greenway
Apex Parks and Recreation is a wonderful resource for all your questions about which parks have exactly what you are looking for (www.apexnc.org).