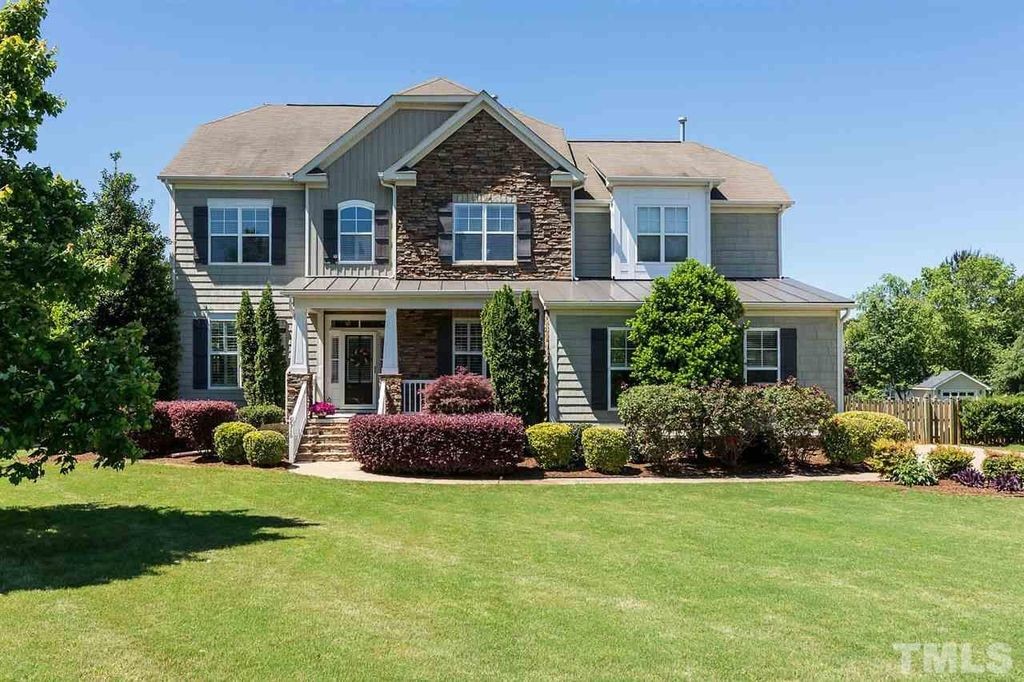 It is no secret that in the last five years the housing and business development in Apex has exploded. According to the Apex Development Report from May of this year, the number of new building permits for single-family homes jumped from 621 in 2013 to 962 in 2016. This is a 55% increase in just three years. It is safe to assume that this jump in housing development is, in no small part, due to the positive spotlight that has been put on Apex in recent years. In 2015, Money Magazine named Apex the number one place to live in the United States, so who wouldn't want to move here?
With all of the new developments going up in and around town, it not only draws the attention of those looking to move here from out of state but also prompts many current residents to consider buying a new home. Whether it is a chance to upgrade due to a growing family or those looking to downsize after all of the children have left the nest, the decision to move can be stressful and time-consuming.
Where to start
The first step in deciding whether or not to buy a new home is determining what you are looking for. Are you growing out of the home you are currently in, or is there more space than you need? Once this question has been answered the next step is to contact a realtor. Finding a realtor you can trust can be a daunting task. The best way to find a Realtor you are comfortable working with is to talk to friends and family and get suggestions and recommendations.  Once you have found a Realtor, the next step is to find a lender. Mike Trainer, Real Estate Broker with Block & Associates who has lived and worked in Apex for over twenty years, suggests starting with "local banks, local lenders and local mortgage companies." "Banks and mortgage companies have become more popular within the last five to six years," Trainer says. While the basic fundamentals of buying a home haven't changed in recent years, many of the operating practices that were once a standard in the industry have now become a relic in the Apex market. According to Trainer, "Contingencies are no more."  There was a time when a buyer could put a small amount of money down on a house and have the home held on a contingency until their current home sold. Those days are gone for the Apex market. Trainer notes that it is not unusual to have "five or six offers on a home after being on the market for as little as twenty-four hours." Because of the high demand for the area, sellers no longer have to take the first offer that comes along, and they aren't forced to hold a home for someone when there are four or five other offers on the table. Mike Trainer strongly suggests that buyers go into a sale with a "letter of bank approval and between 5%-20% money down. The more money you are able to put down, the better your chances are for landing the home you want."
So many choices
Everywhere you turn there is a new housing development going up in Apex. Finding the right neighborhood is just as important as finding the right home. Making a list is a great way to start to establish what you are looking for. Along with price, proximity to schools and shopping can also be a determining factor in choosing a neighborhood. "Apex really doesn't have any bad areas," said Trainer. "This is why we were voted the best place to live," he said. Trainer likes to compare Apex to a town straight out of Back To The Future, "You can be in a locally owned shop in downtown Apex one minute, and the next you can be at a state-of-the-art Skate Park. We have the 1960s hometown feel, coupled with the modern conveniences of the new millennium." When choosing a home, it is important to stress that buyers need to make sure they know what they are qualified for beforehand. There is nothing worse than falling in love with a home only to realize it is outside of your price range. By getting qualified ahead of time you can save yourself a lot of time and possibly even a little bit of heartache.
Time to Sell
According to Mike Trainer, it is "a [strong] seller's market" in Apex right now. The success of selling your home will depend on several factors, including "price point and checking comparable home sales in the area." Due to the increasing number of new homes in the area, it is causing the prices of resale homes to go up as well. When selling a home, Trainer suggests spending the time and money to make sure you have a "fresh coat of paint and new carpet. If your home isn't priced accurately, and you haven't updated these areas, it can sit on the market for a while." Currently, homes that are priced accurately can have competing offers after being on the market for a day or less. Trainer also says that open houses are making a comeback, along with financing at 3.4% and 4.2%. It is just as important for a seller to be sure that their buyers are qualified as it is for the buyers. If you accept an offer only to find out later that the buyer is not qualified, it can cost the seller additional time and money, not to mention possibly losing other offers in the process.
Whether you put your current home on the market before or after you find your new home is a decision that needs to be made based on budget. It is important to determine if your budget would allow you to carry two mortgage payments if your current house doesn't sell quickly. The reasons for this may vary, but the vast majority of times it is because the money from the sale of the current home is needed in order to put a deposit on the new home. It can also be a situation where their current home sells so quickly, that they haven't had an adequate amount of time to make a decision on a new home. Either way, it is important to be prepared for any situation.
Rentals
One area of the Apex real estate market that has seen a dramatic increase over the past few years is rentals. According to Trainer, one reason for the explosion of rentals in the area is because "many people are coming to the area in contract or temporary positions. Many of them have homes in other states that they haven't sold, and are unsure where their professions will take them in three or five years." For those looking to rent their homes, rather than sell, it is possible for them to find renters within "three days to one month," Trainer said. When renting your home, it is once again extremely important to make sure your tenant is well qualified and is someone you can trust in your home.
Whether you are upgrading or downsizing or just looking for a change of scenery, buying a new home is an exciting time. Take a moment to step back and enjoy this new adventure. By going into this journey educated and with your mind open, it will alleviate some of the stress of the situation and allow you make the decisions you want rather than having to settle for something because you have no other options. Ask your friends and family for help in finding a realtor or help to move your belongings. This is a great excuse to have everyone over after the move is behind you to thank them for their help along the way.