What happens when you come home from work without a dinner plan or having forgotten to take out something to thaw? The drive-thru happens—which results in money spent on food that's nowhere near as healthy as what you could make at home. What happens when family members go in different directions all day, then everyone converges on the kitchen where you're about to spend the next hour cooking? Hungry kids happen—they fill up on snacks while they wait for the good food you're working hard and fast to prepare.  Is there an answer to the mealtime dilemma? Try slow cooking!
Imagine tossing a bunch of raw, cold ingredients into a pot in the morning, and coming home in the evening to a ready-to-eat meal. There's something magical about being met at the door by the mouth-watering aroma of dinner…when you've hardly lifted a finger. It's especially delightful at this time of year when there's so much to do and the cold and dark make you feel less like cooking and more like curling up on the couch with hot chocolate and Netflix.
A crock-pot is good for breakfasts, lunches, dinners, desserts, hot beverages, and more. The possibilities are endless. And slow cooking can save you money, time, and aggravation.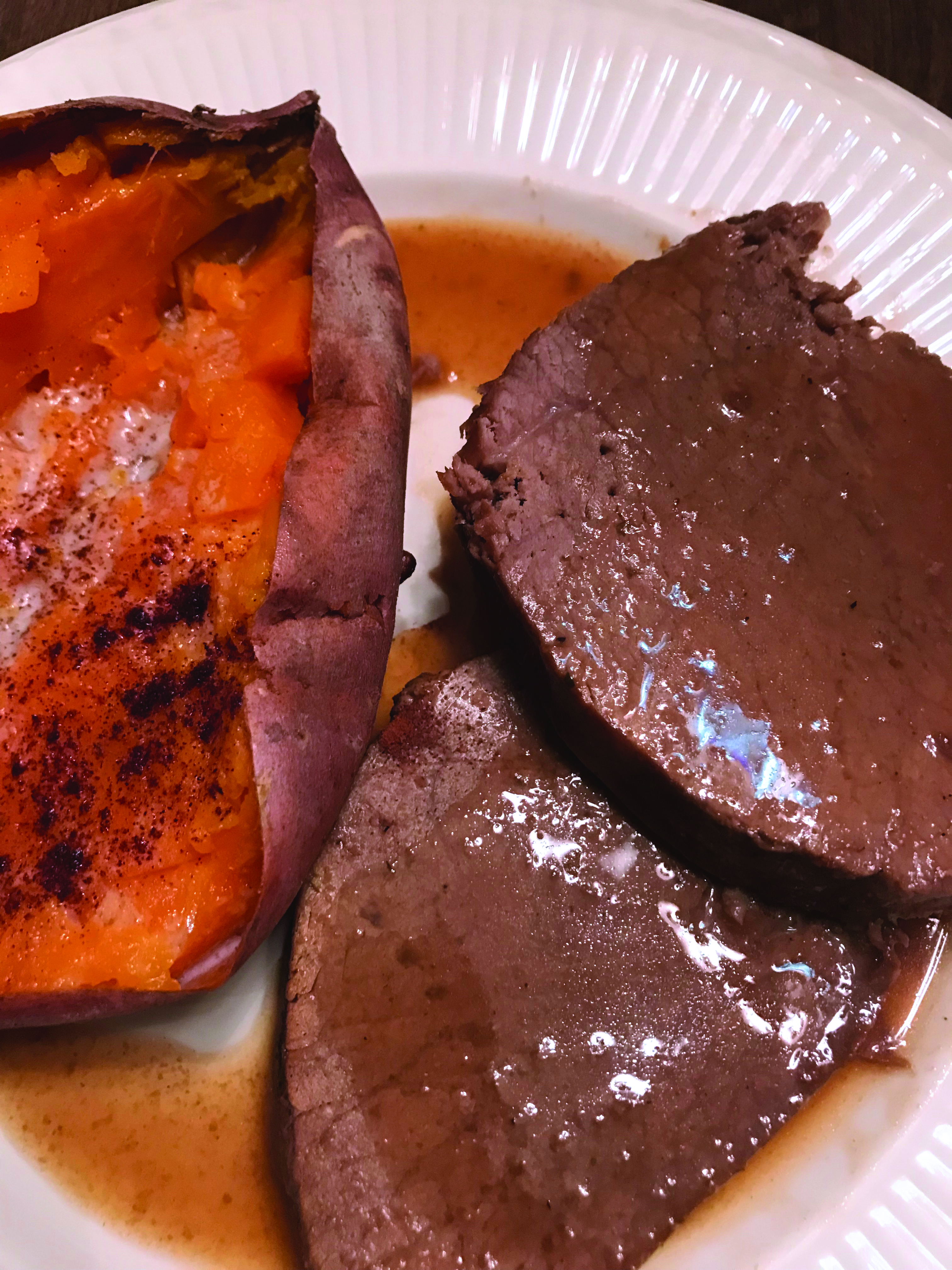 Where to Begin
Slow cookers come in a variety of brands, shapes, and sizes with a wide range of functions and features. It would be difficult to name them all and even tougher to justify one over another.
One thing to keep in mind when choosing a size is that crock-pot recipes are based on the pot being one-half to two-thirds full in order to provide proper cooking. A large pot half empty may dry out or burn its contents after several hours. A small pot too full may overflow as the contents expand while cooking. One school of thought is to err on the side of larger and use an oven-safe dish as a smaller insert in the stoneware.
Many of today's slow cookers are programmable with options for high and low temperature cooking, and they have an automatic safety feature that turns the unit to warm when the cook time has elapsed. It's worth the peace of mind to look for this functionality when you buy a slow cooker.
Hints and Tips
Layering. Some vegetables take longer to cook than meat, so it's important to layer the ingredients according to your recipe. Vegetables often go on the bottom or along the sides, with meat on top or in the middle.
Liquid. Soups, water, wine, broths, and other liquids are often pre-mixed with dried seasonings and poured over the top of the food in the stoneware. Rice and noodles sometimes require a little more liquid to ensure they absorb enough to cook through.
Dairy. Milk, cream, and sour cream will separate if cooked for a long period of time so they are typically added during the last half-hour to fifteen minutes of cooking. Condensed soups, however, work well in slow cooker recipes.
Meat. Boneless or lean cuts of meat (such as pork tenderloin and chicken) cook faster, whereas marbled meats (pork roast or pot roast, for example) or meats that are still on the bone benefit from longer, slower cook times. If you're using fast-cooking softer vegetables—like eggplant, mushrooms, or finely cut onions or other veggies—you may want to cut the meat into smaller chunks so everything cooks at the same rate.
Now, How About Some Easy Dinner Recipes.
Wild Rice and Chicken
Spray crock-pot with cooking spray. Pour one 6-ounce box of dry long-grain wild rice into the bottom of the pot. Lay 4 boneless, skinless chicken breasts on top of the dry rice. Scatter 6 to 8 ounces of sliced mushrooms over the chicken. (Mushrooms can also be omitted altogether.) In a separate bowl, whisk together one 10¾–ounce can of cream of chicken soup, 2 cups of water, and the contents of the rice seasoning packet. Pour liquid over the mushrooms, chicken, and rice. Cook, covered, on LOW for 5 to 6 hours or until chicken is cooked through. (Add water if the rice mixture is too thick or if you want to dilute some of the saltiness of the soup and seasonings.)
Honey Sesame Chicken
Spray crock-pot with cooking spray. Lightly season 2½ pounds of boneless, skinless chicken breasts with salt and pepper and lay them in the pot. In a separate bowl, mix 1 cup honey, ½ cup low-sodium soy sauce, 4 tablespoons diced onion, 4 tablespoons ketchup, 2 tablespoons canola oil, 2 cloves minced garlic, and ½ teaspoon red pepper flakes (optional). Pour liquid over chicken and cook, covered, on LOW for 3 to 4 hours, or until chicken is cooked through. Remove chicken from crock-pot and leave the sauce. Dissolve 4 teaspoons cornstarch in 6 tablespoons cold water and stir into crock-pot sauce. Turn heat to HIGH and cook, covered, for 10 minutes or until sauce has thickened. Cut chicken into bite-sized pieces, return to crock-pot, and toss with sauce before serving. Serve over rice or noodles.
Three-Packet Roast
Spray crock-pot with cooking spray. Put a 3-pound chuck roast or any inexpensive cut of beef into the pot. In a separate bowl, mix 1 cup of water with 1 packet dry Ranch dressing seasoning mix, 1 packet dry Italian dressing seasoning mix, and 1 packet brown gravy mix and pour over the roast. Cook, covered, on LOW for 7 to 8 hours. Add 2 cups additional water about 30 minutes before eating and increase heat to HIGH. The seasonings in the gravy will be quite concentrated and this will help dilute them a bit.
Easy Turkey Breast (pictured on opposing page)
Spray crock-pot with cooking spray. Season a 4- to 6-pound turkey breast (bone in or out) with salt and pepper and place in stoneware.  Chop one onion and place inside and alongside the meat. Cut a stick of butter into chunks and tuck pieces inside cavity and under skin. Add 2 cups of chicken broth or white wine to the pot and cover. Cook on LOW for 7 to 9 hours, or on HIGH for 4 to 6 hours, until meat thermometer registers at least 165°F. Remove from cooker, let sit 10 minutes, and carve.
Crock-pots might remind you of your grandmother's kitchen, but they are popular again, and there are websites and cookbooks devoted to slow cooking. Check them out and you'll find that with a little bit of planning, you can prep a meal in minutes, forget about it for hours, and wow your family with a hot, healthy, delicious dinner.