Known as the "unofficial end of summer," Labor Day brings images of school starting, cooler temperature and the sun going down early. But how did Labor Day get its start?
The first Labor Day was celebrated in the late 1800s. As the trade unions and labor movements grew, the unionists decided that there should be a day to honor those that contributed to the prosperity and well-being of our nation. As time went on, Labor Day became a celebratory weekend and in 1894 it became a federal holiday.
What better way to celebrate all the work you do and thank those around you than with the ultimate Labor Day party!
Here are some tips to make your farewell-to-summer party one to remember:
Invitations
Gone are the days of signed, sealed and delivered invitations.  Thanks to the internet and sites like evite.com and punchbowl.com, sending an invitation to 30-40 of your closest friends is as easy as typing in their email addresses. Sending an invitation by email is a great way to get the word out about your party and also allows you to keep tabs on how many guests you invite and how many will attend. Word of mouth can be great, but it is hard to make sure you have enough food for everyone when your mom invites your third cousin who you haven't seen in 20 years! Most sites have holiday-specific invitations that you can choose from, or you can design your own. Be creative! You can match the theme of your party to the invitation, or keep them guessing by having simple wording with the basic who, what, where and when. Be sure to have an RSVP date that is well enough in advance for you to plan. We all know that one person whose invitation gets "lost" in their e-mail inbox and the RSVP date has come and gone and you haven't heard from them. Give yourself time to follow up with these guests to see if they are planning to attend.
When planning the date of your party, keep in mind that Labor Day is a weekend-long celebration. Try to give your guests enough lead time so they can check or rearrange their schedules if needed. Also remember we are in the sunny south where the weather can be somewhat unpredictable. Be sure to have a rain date or an alternative location in mind just in case Mother Nature decides to be feisty.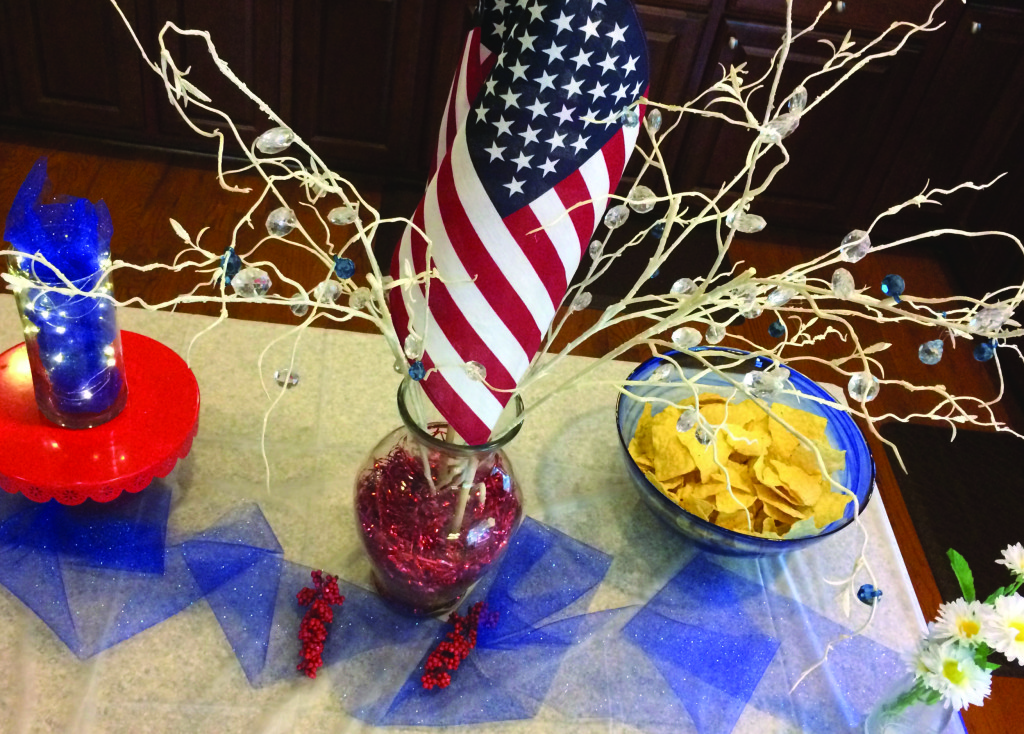 Decorations
Keep it simple! When decorating for your Labor Day celebration there are three words to keep in mind: red, white and blue. Although most associate the patriotic theme with the 4th of July, Labor Day is just as worthy of the colors of Old Glory. Start with a solid color tablecloth for your buffet table and add accents with plates, utensils and serving trays. If you have tables for the guests to use, try adding a small vase with a red, white or blue flower in the center. Mason jars are a great way to display utensils and flowers, and you can get them in large quantities for an inexpensive price. Check your local Dollar Store for fun additions to your decorations, like glow-in-the-dark light sticks to hang from surrounding trees, or flags and banners to decorate chairs or tables. Pinterest is another great resource for decorating tips and ideas.
Entertainment
It is Labor Day in North Carolina, so chances are it is hot! Pool parties are a great way to celebrate and keep cool, but that isn't an option for everyone. Even if you don't have access to a pool, there are lots of ways to stay cool and have fun at the same time. Something as simple as a lawn sprinkler can provide hours of refreshing entertainment for your littlest guests. Just crank up the water and let them run free! For the more "mature" guests, there is nothing more fun than a good old-fashioned water balloon fight. Fill up some water balloons and have your guests pair up. Form two lines with each person facing their partner and tell them to toss the water balloon when you say "go." Then tell one row to take a step back and throw again. Keep this going until there is only one pair left that hasn't dropped their water balloon. Or, just have a bucket full of water balloons on hand and take cover as the fun begins! Water blasters and water guns are always a big hit with kids of all ages.
Music is a great way to keep the energy up and keep the fun going. Load up your phone with your favorite summer tunes and get the party started. Try having a dance-off competition or a limbo contest…how low can you go?
Food
Let's be honest, even if the weather is beautiful, the decorations are over the top and the entertainment is exciting, if the food isn't spot-on, that is what your guests will remember. Have no fear, with sites like signupgenius.com and perfectpotluck.com you can be sure there is something for everyone to enjoy. People love to share their favorite recipes or have just been waiting for the opportunity to try something new. By having people sign up to bring a side dish or dessert, you can ensure that no one will go home disappointed. As the host, be sure to have some of the old standbys on hand, such as hamburgers, hotdogs, and all the fixings. Keep in mind that some of your guests might have dietary restrictions. If you know someone has an allergy, talk to them ahead of time and ask what you can have on hand for them. There are numerous options for gluten-free or vegetarian alternatives and this will ensure that your guests won't feel left out and will appreciate the extra effort you put into making them feel welcome.
Have Fun!
Even though Labor Day is considered the unofficial end of summer, there is no need to be sad. Enjoy this outdoor time with your friends and family and think about all of the fun fall and winter activities that will come in the next few months. Take advantage of having everyone together and start planning tailgate parties and talk about trips to the North Carolina mountains to see the beautiful colors. Remember, the end of one season also means the beginning of another!