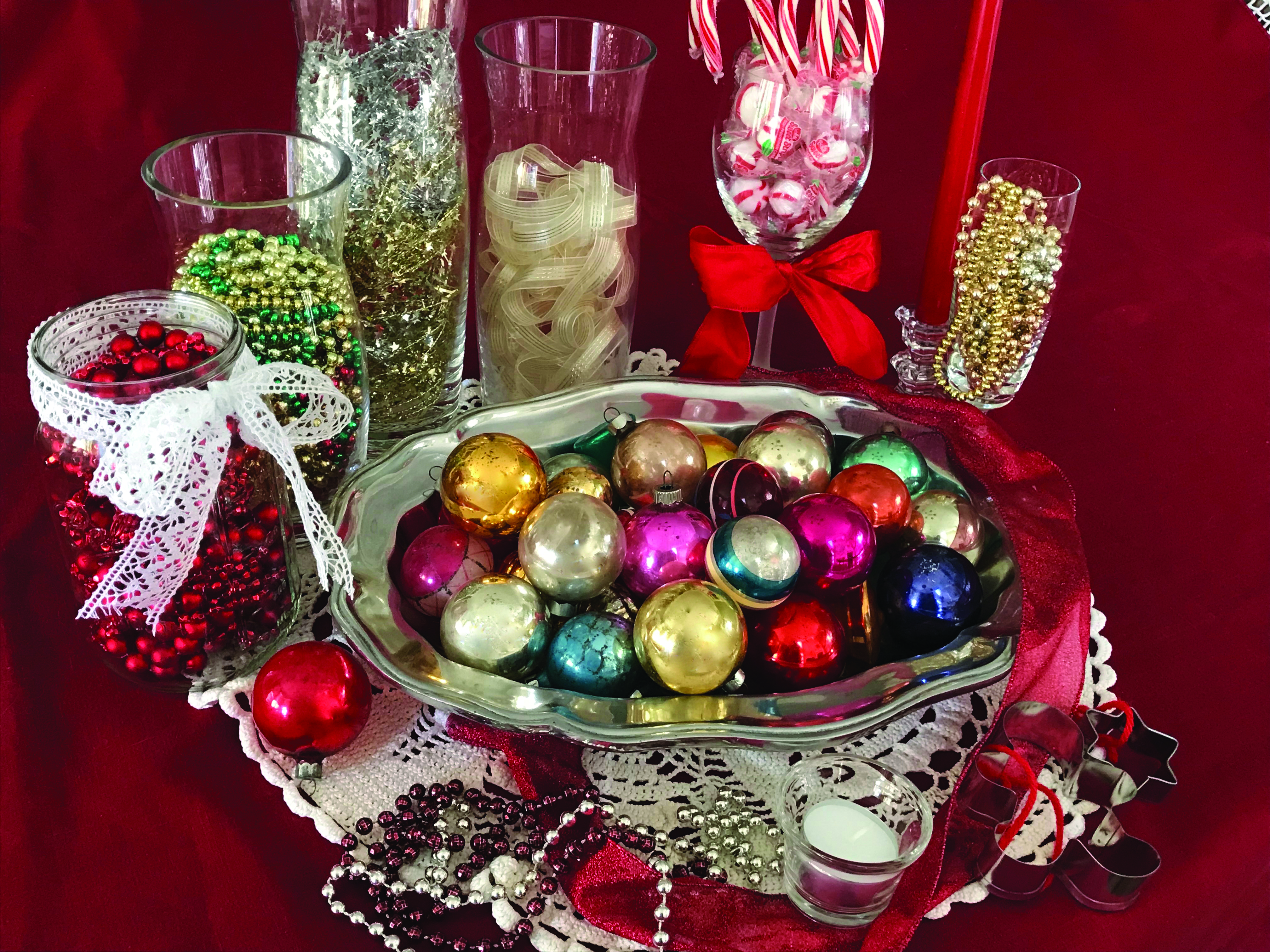 On everyone's list of "Things to Do in North Carolina" should be visiting the Biltmore House in Asheville. It's particularly spectacular at Christmastime when lights and ornaments number in the tens of thousands, and more than fifty trees stand decorated throughout the house. 
You don't have to be a Vanderbilt to add sparkle and charm to your own home this Christmas. And we have some surprisingly simple ideas for creating a festive and welcoming atmosphere on a less-than-grand budget.
Start with the container. No need to spend a lot on a fancy, holiday-themed basket or bowl. Look in your kitchen cupboards and dining room china closet for containers you wouldn't normally associate with holiday decorating.
Things like: wooden or glass or metal bowls, crocks, candy dishes, teacups, pewter or crystal serving platters, tall champagne flutes or rounded goblets, canning jars, glass vases, and of course, baskets of all shapes and sizes.
Now, here are some ideas for creative and often overlooked things to put in a unique container to dress up any table, mantle, dresser, or vanity.  
Spices
Mix whole spices such as cloves, nutmeg, allspice, cardamom, and cinnamon sticks and use to add holiday scent to bathrooms or a kitchen counter. Cinnamon-scented pinecones are sold in craft stores and look and smell wonderful in a wire or wicker basket on the hearth.
Beads 
Cheap gold, silver, and red beads left over from a Halloween costume or Mardi Gras party sparkle in a glass jar or vase.
Fruit
Think of all the red and green produce out there. Apples, pears, pomegranates, cranberries, and limes are just a few. Tuck in a few sprigs of greenery—and replenish as pieces of fruit become snacks. Cranberries look lovely in tall glasses or spread around a small candle on a flat serving piece.
Ornaments
Fill a large glass vase or bowl with antique ornaments and bulbs handed down from past generations. They'll generate conversation and make a beautiful centerpiece. In addition to creative containers and unique fillers, there are other ways to decorate using items you might have laying around.
Cookie Cutters
Whether you have tarnished cookie cutters handed down from past generations or shiny ones from a dollar store, tie each with a delicate ribbon and hang them on the Christmas tree or on walls in small spaces that need a touch of holiday spirit.
Wreaths and Candles
Don't forget about these faithful standbys. But change things around a bit. Use wreaths inside and hang them on your staircase railings and bedroom or bathroom doors. The plain green wreaths from any craft store will do just fine, and using ribbon instead of metal or plastic hangers shows you did a little extra in the way of handiwork. Need an idea for a fast and gorgeous centerpiece arrangement for the dining room table on Christmas Eve? Try varying sizes and shapes of red, green, and white tapers, tea lights, votives, and pillar candles in an assortment of holders. Christmas Cards
Christmas Cards
After you've read your Christmas cards, hang them on the inside of the front door using an adhesive that is appropriate and safe for the door's surface. You can also hang them along the front of a fireplace mantle or down long strips of ribbon attached to a door or banister. If you have a picture frame not in use, frame a particularly attractive or meaningful Christmas card and display it on a side table. Many of today's greeting cards make beautiful framed artwork!
Ribbon
Ribbon can go everywhere. Any jar, basket, or drinking glass can be made more special by adding a ribbon or fabric bow. Metallic ribbon nestled into a glass jar is clever on its own. Tie wire-edged ribbon into bows along a staircase banister at even intervals. Thread bells onto fine ribbon and tie them to a doorknob. Surprise the kids by tying wide ribbon around their bedroom doors, finished with a big bow on the front. The result will look like giant presents.
Faux Gifts
Wrap empty cardboard boxes of all sizes and shapes with solid colored wrapping paper or plain butcher paper (cut up paper bags work well, too). Tie each one with wide ribbon and stack in a tower with a bow on top. Or arrange several in a corner display.
Peppermints
Mini candy canes or individually-wrapped pepper-mints in a crystal candy dish or wine glass are festive-looking and a convenient treat to offer your children's friends after a playdate.
Picture Books
Christmas books, old and new, filling a large basket or stacked neatly on a coffee table or fireplace hearth make an interesting display, one that easily entertains young children when they come to visit.
Evergreen
Have a pine tree nearby? Cut a few twigs of varying lengths and put them in jars or tall glasses with some water. Group them on the mantle in a pine-scented arrangement. You can also create a thick layer of pine twigs or garland on a strip of burlap or other fabric and tuck in some red accents, such as a small serving piece, candle or candleholder, bottle, or tree ornament.
While it would certainly be nice to have the time and the means—not to mention the space—to put a Christmas tree in every room of the house, decking the halls doesn't have to be expensive or complicated. Before you head to the store to buy things for your Pinterest-inspired mantle, take a walk around your house. Check your kitchen cupboards, pantry, and dining room cabinets. Look in the attic for forgotten or heirloom treasures. Consider your rarely used dishes and containers of all kinds; along with last year's leftover ribbon, wrapping paper, and Christmas cards. Let the Biltmore House provide the public display of extravagant trimmings. Your holiday decorations this year will be just as meaningful and special because you make them so.