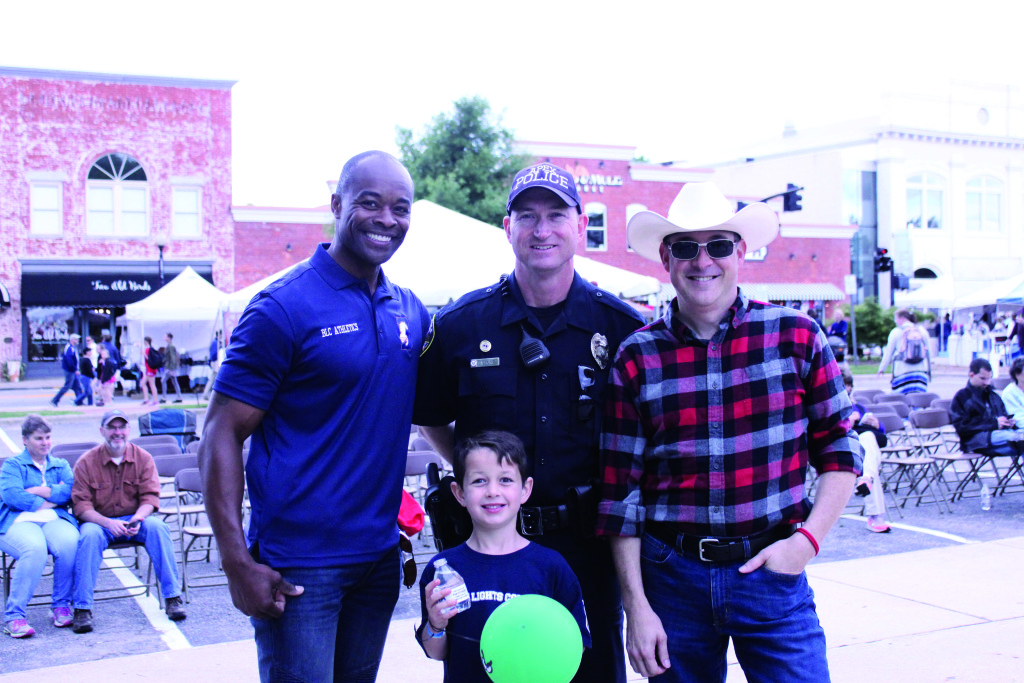 The future of police work is about to change dramatically…and it's starting in Apex, North Carolina at Blue Lights College.
Today, new officers with Basic Law Enforcement Training (BLET) certification spend two years doing active police work before they receive instruction in de-escalation. During that time, preconceived notions and stereotypes settle into the minds of the very men and women whose job it is to interact with community members in crisis. This is why, across the nation, we see violent ends to so many confrontations between police officers and the people they are meant to protect. Blue Lights College, opening its doors this fall, is the first police prep school of its kind and a game-changer in the way police officers will be trained to resolve conflicts.
"As far as we know, there is no one else training students in de-escalation before they become officers," says Christina Guichard, Director of Operations and Corporate Development for Blue Lights College. "This is training that could save lives. You have to understand how to communicate. You have to understand how to approach someone in turmoil."
For Blue Lights College president and founder Jacques Gilbert, compassion and respect are vital components to handling potentially volatile situations. He should know. As an Apex Police Department captain, Gilbert has seen a lot in his 27 years on the force. Compassion and respect are what drew him to help an Apex teenager create the Rodgers Family Skate Plaza and what earned him White House recognition as a Champion of Change in 2015. It was through his police work and community engagement that Gilbert noticed this significant gap in officer training.
"Police academies and departments do an excellent job at skills training for future officers," Gilbert says. "What is typically missing is the emotional element.  We want Blue Lights College to fill that gap in training."
Now, students with an interest in law enforcement can receive the police skills and the emotional training they need, all at once. Thanks to a partnership with Wake Tech, students who enroll at Blue Lights College receive BLET certification as part of their complete junior college curriculum. For Wake Tech's independent certification program, Blue Lights College is currently an optional addition, but Gilbert and Guichard are hoping their curriculum becomes the preferred path of all students pursuing a career in law enforcement.
The Blue Lights College curriculum consists of online and in-person classes, BLET certification, and job placement services with the assistance of local police forces and security companies. Guichard feels that it's important that students have direction after graduating. "We're looking for partners that will employ students so they have relevant experience on their resumes. With job placement services as part of the program, students won't be left hanging while looking for a job." For students who are undecided about the rigors of a law enforcement career, Blue Lights College also offers a "career changer" program that is shorter in length than the full curriculum.
According to Gilbert, "In a career where communication can save lives, we need officers armed with compassion." Which is why academics, athletics, career development, and spirituality at Blue Lights College are all rooted in faith, purpose, and trust—Gilbert's three foundational pillars for change. Starting a faith-based program was intentional. Students don't need to be Christian to go through the program, but Gilbert feels strongly that police officers with a deep sense of spirituality are best equipped to approach conflict with compassion. So strongly, in fact, that when responding to calls for the Apex Police Department, he now sees a person committing a crime as a victim in crisis, as someone's family member, as an individual in need of help themselves. Gilbert believes that officers armed with compassion are less likely to use force.
In September, Guichard and Gilbert expect 100 students to be part of Blue Lights College's inaugural class. Courses will initially be offered 75% online and 25% in-person, making it essential that students be self-motivated. Coursework runs the gamut from speech communication and effective teamwork to ethics, negotiation, and criminal law. And that's just the first year. In the second year, students take classes in public speaking and financial responsibility along with concentrated studies about effective policing through cultural awareness. Guichard emphasizes that, "We're going to be holding students accountable throughout the year. We want involved kids."
And there is plenty to be involved in. The Blue Lights College Triumphant Thoroughbreds' athletic director and coaches are actively recruiting for men's wrestling, women's volleyball, and men's and women's basketball. They will compete against other Division II, Division III, NCJAA, and NCAU teams. Guichard is excited about the athletics program and says, "It's a great opportunity for students who are passionate about being an athlete…even those who haven't thought about approaching police work as a career."
From Guichard's perspective, "The more students we can get through [the college], the more officers there will be on our streets who are better trained, making our communities safer." Of course, to get officers from the classroom to the community, someone has to pay for tuition. And it will not be the students. Blue Lights College has 501(c)3 status and relies on private and corporate donors to fund students' education. "This is a non-profit college truly out to change our country," says Guichard.
The Advisory Board is still taking shape, but there are some invaluable volunteers already making things happen and Guichard's appreciation is evident. "We have amazing volunteers! I can't say enough about the people that Jacques has attracted to help with this program. An awesome volunteer out of Shaw University does our Twitter campaign planning and we have a web developer who has done great things with the website—above and beyond what we could have imagined. It's a community effort."
Blue Lights College is an ideal opportunity for young people, especially students fresh out of high school, who are unsure of the next step in their lives. "Blue Lights graduates will be trained to use faith, purpose, and trust to reach out to someone in crisis," says Gilbert. Whether these graduates simply explore the possibilities of a career in law enforcement, or eventually take an officer's oath, knowing how to communicate and being able to resolve conflicts with respect and compassion are the first steps toward bridging the gap between our police force and our communities.
Gilbert sees change starting with the next generation of police officers. "I believe there are many people in communities all over North Carolina who have a heart of compassion. We need those people. I know they are searching for purpose or looking for a way to serve others. This is it! Blue Lights College will help people rise above doubt and step into the call to serve as a police officer."
For more information about Blue Lights College, visit bluelightscollege.org or email info@bluelightscollege.org. You can also connect through Twitter, @BlueLightsColl. If you or someone you know is interested in becoming a financial partner of the college, email Christina Guichard at cguichard@bluelightscollege.org.