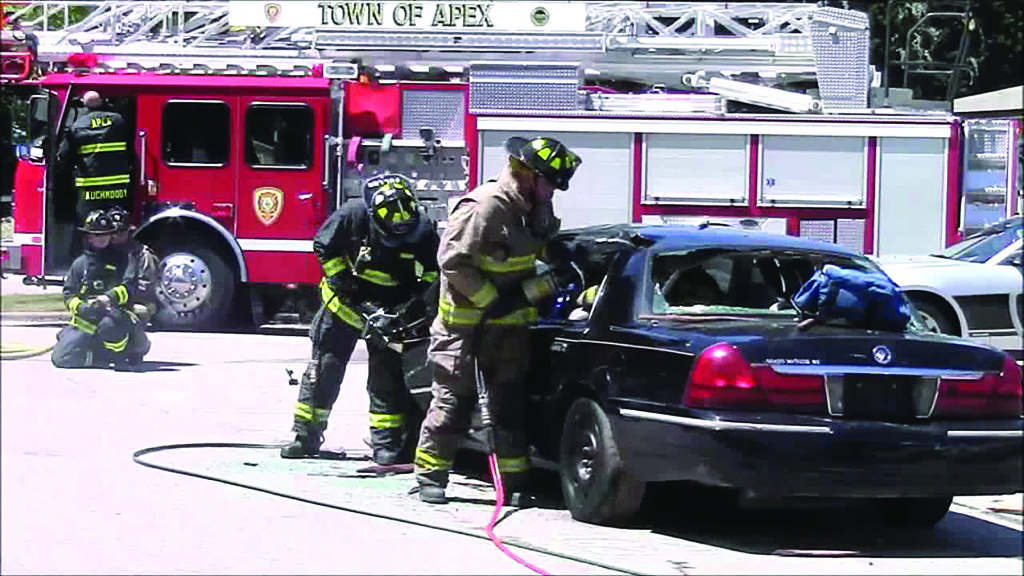 As parents, we don't want to think about it. Our teenage driver in a car accident. But we're forced to face the possibility as soon as our teen gets a license and then gets behind the wheel. Many parents tell their kids, "It's not you I'm worried about; it's the other drivers out there." Yet, every day, something draws the eyes or attention of a young inexperienced driver away from the road. And every day, a young inexperienced driver dies as a result.
Almost 20 years ago, two off-duty North Carolina firefighters started a nonprofit program called "Vehicle Injury Prevention for a Very Important Person," or "VIP for a VIP." Their mission is: To bring the sight, sounds, and smell of a fatal vehicle accident to the doorstep of high school students in a dramatic way in hopes of embedding the consequences of these often senseless events into the minds of teenage drivers. Every year, the VIP program is presented at high schools across North Carolina. This year, Apex High School seniors attend the program in April and Apex Friendship High School juniors see it in May.
The Program
The program is intense and delivered in two parts—one in the morning and another in the afternoon. Many of the day's key presenters and participants are local department chiefs and emergency responders, making every school's presentation unique and personal.
In the morning session, students hear speakers from Apex's Fire Department, Police Department, and EMS. They also hear from a State Trooper and a parent who lost a child in a fatal accident. Apex High School Assistant Principal, Jeannette Hill, says, "The students are always well-behaved and paying attention, but certainly when that parent gets up and starts talking, you can hear a pin drop—even in the gym."
The students see videos and photos of accidents and hear teenage driving statistics. The tone is notably serious, especially as the session ends with the school's honor guard removing a flag that is draped over a casket and ceremoniously folding it.
The afternoon session is a reenactment of a fatal car accident. At Apex High, the lower portion of the senior parking lot becomes the scene. Volunteers play the parts of a passing jogger, a teen victim, and his parents. Apex's first responders arrive with lights and sirens. "A parent letter goes home ahead of time, and we tell the neighbors we're doing this," Ms. Hill says. "They're speeding through the parking lot and pull up right to the crash scene."  With smoke swirling, the driver "narrates" as he is cut from the wreckage. EMTs perform CPR while his frantic parents watch helplessly, and he is pronounced dead.
Coordination of the Day
Apex Police Department Master Officer Jason Stone, School Resource Officer at Apex Friendship High School, originally coordinated the program as Apex High School's SRO before going to AFHS. "Our responsibility is to reach out to local responders—to get the Chiefs to speak in the morning—so it's a little more relatable to the kids. We coordinate with our traffic unit as well to make sure Fire and EMS come with their vehicles in the afternoon."
It's Officer Stone's job, too, to find two wrecked cars for the day. Every year, a local towing company donates one to place at the entrance to the senior lot and another for the reenactment. "We ask for a car that a teenager might drive, and the more beat up the better."
To perform the role of the teenage driver, Officer Stone enlists the help of a volunteer firefighter or a participant in the Apex Police Department's Explorer program. "One year, we asked the son of one of the EMS assistants. They put all the special effects on him and it got to be too much. He had to back out. VIP has a young-looking volunteer just in case that happens. They have everything covered. [VIP] prefers it not be a student at the school because they feel like that would be too much if it was someone the kids know."
After lunch, the VIP mediator walks the volunteers through their parts before the students return from class and are seated for the afternoon session.
"It truly is a turnkey program," according to Officer Stone. "They pull in that tractor trailer and their bleachers unfold and seat about 600. They know exactly where to set up since they've done it at Apex High the last several years. At the end of the day, they just fold up [the bleachers] and pull out."
Reactions and Support
"It is very, very powerful. A lot of [students] cry," says Ms. Hill. "We've done different assemblies from year to year but this is the one that, consistently, kids are so appreciative of. They will email, or have their parents call or email, or they tell us in person how much they appreciated it and they were glad they got to see it. It's so worth the class time that we give up to do this."
For Officer Stone, the emotions are highest when students see the actors come in playing the driver's parents. "The mom comes in and she's screaming. That's when I always look at the kids. They're okay and serious, but when that mom comes in…they're crying."
VIP emphasizes that the program is not about drinking and driving. The focus is on inattention, something that affects all teen drivers. Officer Stone feels the program does a great job. "It's extreme, but from somebody that works with teenagers all day every day, you have to shock them to get their attention."
Demand for this program has been tremendous. At Apex High, Officer Stone consistently tried to schedule it for the week of the prom when students were more likely to make unsafe decisions. "Originally," says Ms. Hill, "there was one [VIP] unit for the entire state but they couldn't keep up with the demand. We were lucky; they liked us and they liked the support they got from the Town of Apex so they always put us on the schedule. I know most of the principals in the area consistently will book it a couple of years in advance just so they can make sure they're on the schedule."
Ms. Hill also reminds parents, "Apex is very supportive—the police, fire, EMS—and this is something that they definitely spend their time on, that obviously they do not have to do. They do it because they know it's worthwhile and it's hopefully going to make an impact so they don't have to respond to as many of these crash scenes."
VIP events are staffed entirely by volunteers, and financial sponsorship is vital to keeping units available to high schools across the state. Anyone can visit www.vipforavip.com for more information and to donate through PayPal or download a financial support form.
It's difficult to know exactly the impact that this program has had on high school students over the years, but consider this: One year, an Apex High School student went to his prom and he approached the principal and others who had helped coordinate the VIP program just days earlier. The student said that because of the presentation and its shock value, he had changed his plans for the night.
What better reason is there to have the VIP for a VIP program return every year?