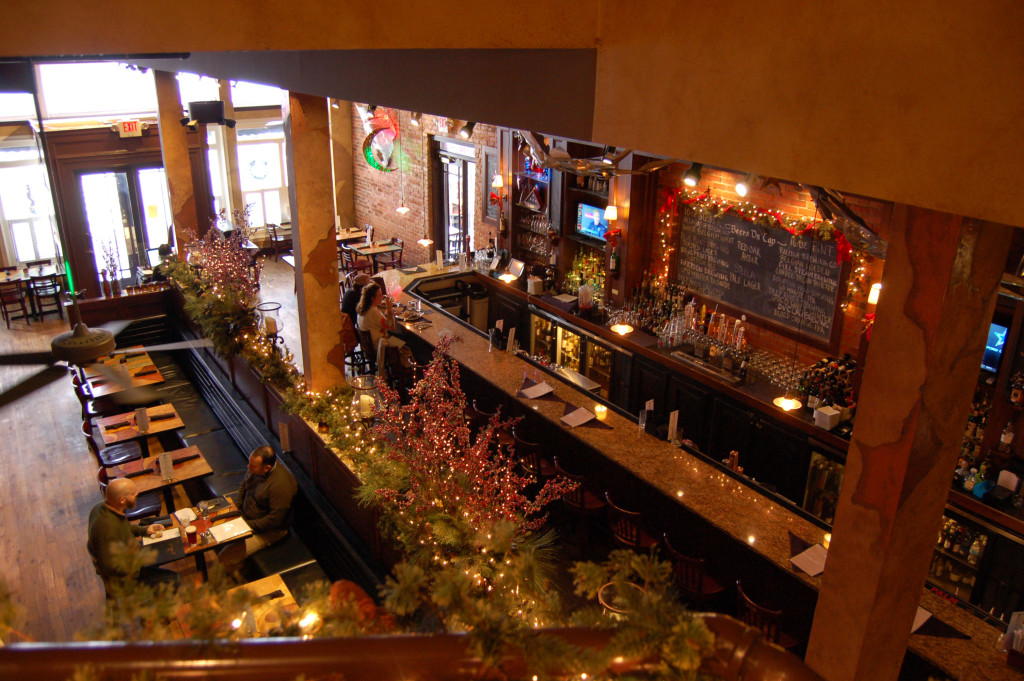 Valentine's Day is here. Sure, it's a Hallmark Holiday, but that doesn't mean that there aren't certain expectations if you're spending it with someone. You can spend your night out in downtown Apex with dinner and a show. The most romantic place? That would likely be locally owned Peak City Grill and Bar. The restaurant resides in a building that was constructed in 1905 and the space was formerly used as a general store, hardware store, and feed and mill store. While still preserving the historic charm, the space has been renovated into an elegant restaurant serving chef-crafted new American cuisine. Some of the menu items include: Lobster Mac and Cheese, Honey Roaster Salmon, and Grilled Beef Medallions. Peak City Grill and Bar also offers weekly specials Monday through Thursday night and additional weekend specials.
After dinner, stroll over to the Halle Cultural Arts Center to catch one of the many shows being performed. On February 11th, catch the 7:30pm show featuring critically acclaimed vocalist Jack Wood, guitarist Doug MacDonald, bassist John Brown, and drummer Peter Ingram. Mid-day February 19th, you can see a professional bass quintet composed of members of the NC Symphony. The show on March 11th will highlight internationally renowned Jazz pianist Lenore Raphael.
Get your fill of Irish food at Doherty's Irish Pub located at 5490 Apex Peakway. Their menu includes traditional Irish dishes like Corned Beef and Cabbage, Bangers and Mash, and Shepherd's Pie. You can also try an Irish Boxty, which is a traditional Irish potato pancake with various fillings. Even if you aren't in the mood for Irish cuisine, there are plenty of other options like salads, sliders, and sandwiches. The restaurant features live music on Friday and Saturday nights and a Bloody Mary bar every Sunday. Make time to visit the nearby Wine & Design after your meal to get after-dinner drinks while unleashing your inner artist. Wine & Design specializes in private and public paint and sip parties for all ages, groups, and talents. Each painting session includes a model painting and an artist to help you create your very own version of the original painting. These paintings range from scenery, to pets, to holiday-themed scenes.  More information about painting options for specific nights can be found on their website (wineanddesign.com).
Another downtown destination is The Blistered Pig. Owner Steve Adams and chef Franz Propst are committed to all natural and sustainable meats. They only serve farmer-sourced, pasture-raised pork, beef, and chickens. Most meat is smoked in-house. They have a stocked bar and nice outdoor patio. It's a nice warm atmosphere for a meal. They are known for their BBQ, but will be serving something new – fresh seafood – . when they add an oyster bar in their location. Keep a close eye. It will be opening soon.
Looking for Asian cuisine? Sushi Iwa is the perfect place to go to satisfy this food craving. They advertise serving Chinese, Thai, Japanese, and Vietnamese food. In addition to their expansive menu, Sushi Iwa also has a sushi bar menu that is completely customizable. Guests are asked to select the type of wrapping, rice, and up to three inner roll fillings. Sushi connoisseurs have the option to add a maximum of five layer toppings on your one-of-a-kind sushi creation. Sushi Iwa, however, does have a menu of their specialty sushi if you would rather not make your own. Prices range from around $9 to $16 for these specialty rolls. Sushi Iwa is only minutes away from the Regal Cinemas Beaver Creek 12, making it a great night out for dinner and a movie. Regal Cinemas features new releases, comfortable seating, and a concession stand. They also have select movies shown in 3D.
Anna's Pizzeria on Salem Street gives you the opportunity to get your New York style pizza while still being in North Carolina. The pizza dough and sauce are made from scratch daily and pizzas are cooked in a brick oven. Pizza can be ordered by the slice, regular pie size, or as a personal pizza. Some of their more unique pizza options include: a baked ziti pizza, chicken marsala pizza, and chicken caesar salad pizza. The menu at Anna's Pizzeria also offers calzones, pasta dishes, paninis, and more.
Make sure to leave room for coffee and dessert as you are within walking distance of the Common Grounds Coffee Shop. The coffee shop is located across from the fire station and offers a wide variety of coffee drinks, tea, and specialty Frappuccinos. They also have a selection of desserts such as cheesecake and cookies. The cozy coffee shop is a great way to end the night.
On your next night out try Arandas Mexican Cuisine, located at 5460 Apex Peakway. The restaurant began in 2013 and since then has made it a goal to bring the Apex community the best Mexican food available. Owners Jose and Carmen Oliveros do this by using fresh products every day and putting a creative and unique twist on traditional recipes. Their menu offers burritos, tacos, enchiladas, nachos, fajitas, and specialty dishes like pork carnitas. Arandas also has a margarita menu, homemade sangria, and beer and wine options.
When you're finished, top off the night with a dessert from the historic downtown Ice Cream Shop. With a wide variety of ice cream flavors and milkshakes, you are sure to find something to satisfy your sweet tooth.