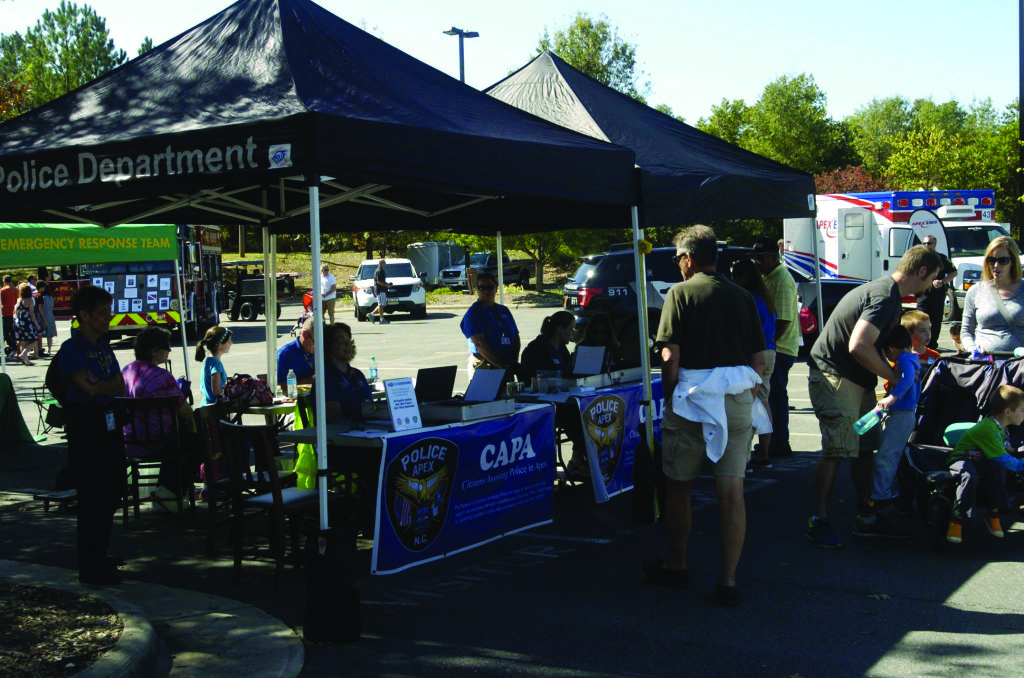 Back in the day, when people imagined an encounter with the Apex Police Department, the thought might have been accompanied by visions of sirens and flashing lights and a traffic ticket, or something much worse. Around here that has changed, thanks to a group of Apex residents building bridges between our community and our police officers for nearly a decade.
Citizens Assisting Police in Apex (CAPA) is a self-governing nonprofit organization that has grown from a handful to more than 50 active members, volunteers ranging in age from twenty-something to eighty-ish. They are not police officers. They are teachers, students, lawyers, artists, pilots, scientists, I/T professionals, and some really good cooks.
"There is no way for me to describe how much work they do for us. They help us immensely!" praises Apex Police Department Officer Kris Shuart, Community Policing and CAPA Adviser. CAPA's value and visibility have grown from placing traffic cones to assisting with police department programs and Apex festivals throughout the year.
CAPA President Richard Brooks has nurtured the evolution of the group since he completed the Citizens Police Academy course in 2010. "When I joined," Brooks says, "it was relatively loose-knit, and it's hard toget things done if you don't have some organization." The members incorporated in 2012 as a nonprofit and since then, Brooks and the CAPA team have found dozens of ways to free up our officers so they can get back to policing.
CAPA in Action
One of the group's most popular and successful programs has been ID cards for children and senior citizens. Parents bring their child to a CAPA volunteer to be photographed and fingerprinted. Pertinent information is collected and the volunteer prints and laminates an ID card. Cards for seniors identify medical conditions and daily-use medications. "A diabetic crisis looks a lot like being drunk," Shuart explains. "I can pull that card out and see that you need to be treated like a medical emergency." CAPA takes two computers, a printer, and a laminating machine to public events and places like community centers and assisted-living facilities, so there are more frequent opportunities to take advantage of this program.
All year long, CAPA volunteers are a regular presence at events sponsored by the Town of Apex and the Apex Police Department. At downtown festivals they direct traffic, reunite lost kids with frantic parents, and mingle with the crowd as extra eyes and ears for the police force. On Shred Day they unload your boxes or bags of documents. At Apex Night Out they make IDs, run children's games, and monitor a "rehab" tent where officers and volunteers can get drinks or snacks. At the Western Wake Crisis Ministry's Turkey Giveaway they load cars with food donations. For Christmas-with-a Cop, the officers take kids shopping and CAPA assists at checkout by purchasing and organizing the gifts, then wrapping and sorting them for the officers to deliver. On Christmas Day, they supply a home-cooked feast. Shuart says, "They bring it in at about lunchtime to get the day shift and they come back that night to make sure it's reheated—bringing another ham and more pies." And the list goes on.
On the topic of food, the Apex Police Department draws a law enforcement crowd at their DUI checkpoints. As Brooks suspects, "I think they get cops from other municipalities because [we feed them]." Shuart enthusiastically confirms that suspicion, saying, "There's no other group that will feed you like CAPA will feed you! I'm talking ribs, chili, sodas, waters. Cookies, cakes, brownies—everything handmade—coffee, hot chocolate… Guys come from all over the county to work our checkpoints because of how awesome our CAPA team is!"
Joining CAPA
To be on the CAPA team, you must be a legal U.S. resident, pass a background check, and successfully complete the Citizens Police Academy (CPA). The Apex Police Department offers the CPA training for free, once a year in the fall, and the program typically consists of one 3-hour session per week for 8 to 10 weeks.
Last year's course covered topics such as: Criminal law, criminal investigations, arrest procedures, traffic stops, the use of force, department communications, police vehicles, and the popular K9 Unit with Rocky and his partner. At the end of the Academy, graduates are eligible to join CAPA, although there is no obligation to do so. New members receive an orientation, review the Police Department manual and CAPA by-laws, and agree to attend at least half of the scheduled monthly meetings and complete a minimum number of volunteer hours.
As a self-sustaining organization, fundraising is part of being a CAPA member. "We've had great community support and several groups have been very generous," Brooks says. "The free Child and Senior ID programs have been a huge success and we were able to raise money and buy a second computer for [making IDs]." Another profitable effort was the K9 Hero program. The group capitalized on K9 Officer Rocky's popularity and had stuffed animals made that looked just like him. "We did it very professionally; we had a business plan set up and a brochure that explained the program," Brook says. "[The ID] programs, support from companies and individuals, and selling 500 Rocky dolls—it was huge!" Shuart adds, "[CAPA] made a lot of money that was earmarked for Christmas-with-a-Cop. They were able to cover pretty much the entire cost of [that event]."
"Humanizing the Badge"
Outside of assisting at events around Apex, CAPA has one particularly important job. CAPA members are partners with the Apex Police Department. They provide transparency between the Department and Apex residents. As Shuart puts it, "It's a way to get interaction so people will understand what it is we do every day. We're not just out there writing speeding tickets; we're not just taking people to jail. You've heard the phrase 'humanizing the badge?' It's what's behind the badge as a person. Volunteer groups can get the word out that we're regular people. [CAPA members] are huge advocates for us."
Brooks encourages CAPA members to set an example by interacting with the officers they come in contact with around Apex. He wants people to get to know our police force and learn from them. It's a mutually beneficial relationship. He adds, "The Chief comes on occasion to talk to the group and he never leaves without saying how much we're appreciated. He says, 'As far as volunteer groups go, I've never seen another one that does as many things as you all do."
Consider joining your neighbors who are "serving those who serve." If you see yourself as a citizen assisting police in Apex and have questions about the program or training, or you would like to offer a contribution to the CAPA team, you can email ncapexcapa@bellsouth.net or contact the Apex Police Department adviser at cpo@apexnc.org.