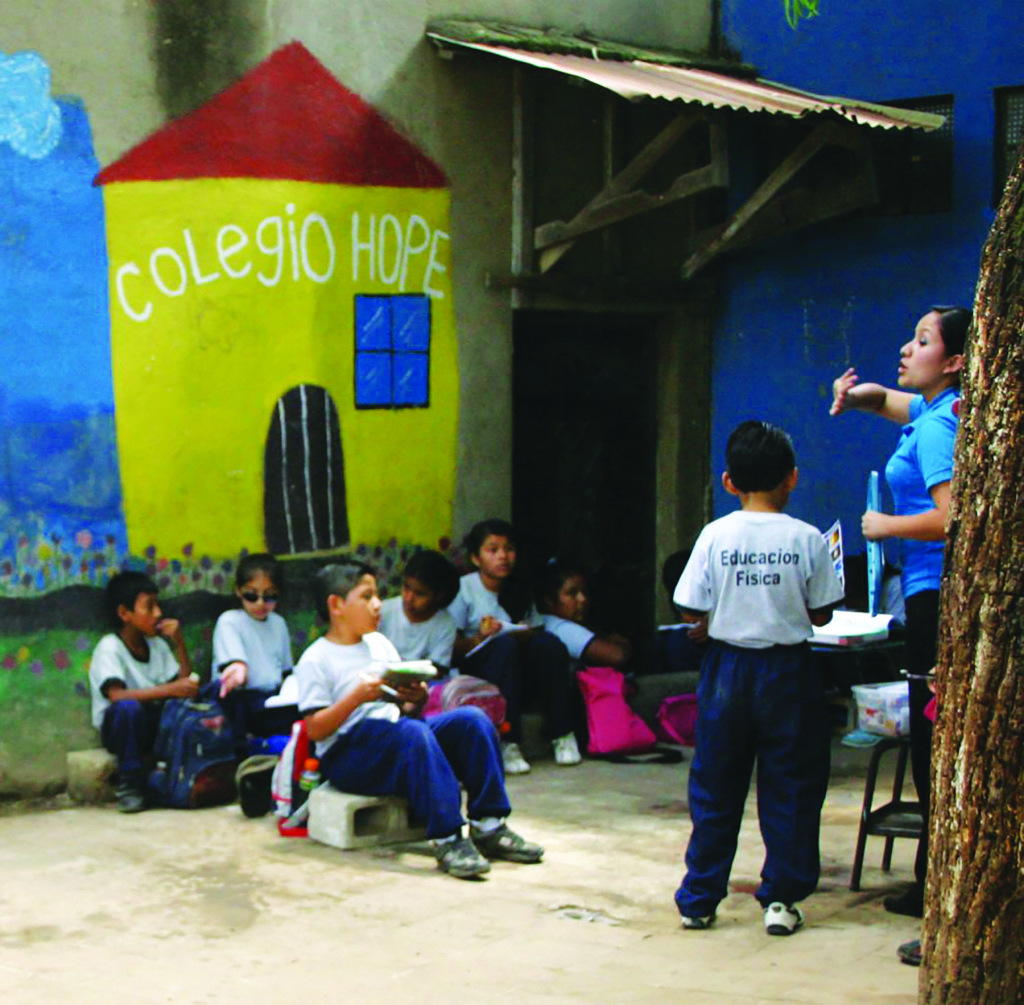 Winding through Guatemala is an abandoned railroad corridor. In some places the tracks are barely visible, covered with years of trodden earth. Crowding the tracks, for nearly 300 miles into Mexico, are squatters' shanties—flimsy structures with dirt floors and rusted corrugated metal walls and roofs.
In one corner of Guatemala City, an impoverished community exists like so many others, seemingly trapped beneath a web of power lines and struggling against violence, illiteracy, unemployment, and a lack of basic necessities. It was here that a school was started in 2003.
The cinderblock building with a dirt playground was named "La Escuelita." The little school. About 30 children came to the school that first year and La Escuelita's founder—a nonprofit called HOPE Worldwide Guatemala—channeled funds to the school but it was doubtful the doors would stay open very long.
Then one summer, a woman from Apex, North Carolina, came to visit. She didn't know it at the time, but a group of friends she gathered after that trip would help sustain the little school for over a decade.
Building a Friendship
In 2005, Nancy Winfrey was searching for a volunteer opportunity that would build a long-lasting relationship between her community in Apex and a community somewhere else. "I knew someone in Miami with HOPE Worldwide. I asked him if he knew of a community that needed help. He sent me five or six ideas in different countries and I sent some emails."
Those emails led Winfrey to the little school on the tracks. "They met me at the airport with a banner," Winfrey recalls. "I said, 'I'm Nancy from North Carolina. I just want to be helpful but I'm not sure what would be helpful.'"
Winfrey fell in love with the school, students, and teachers. She returned to Apex, unsure where to begin but determined to create a sustainable relationship. "I came back and started talking. Hey, I went to Guatemala and saw this amazing school. They have nothing. What can we do?"
People started donating money and boxes of items that she stacked in her dining room. "I never intended to be a nonprofit. It just organically happened over time," she says. "Friends of Guatemala was a name I came up with based on the premise that we're a group of friends and together all of our little bits and pieces will help that school."
The school was accredited in 2006 and became Colegio HOPE. They expanded to three classrooms and two toilets to accommodate preschool through fourth grade. School is in session from January through October and because of the shortage of space and desks, the school day is divided into two half-day sessions. The younger children come in the morning and the older ones in the afternoon. They share desks and the teachers make do with whatever supplies they can find. Yet, so coveted are spots in the school that parents spend the night in line to register their children for each new year.
Donations and Deliveries
In 2007, Friends of Guatemala started making headway as a 501(c)3 nonprofit. Winfrey made frequent trips to Guatemala City and always took something with her. Letters from Spanish class pen pals in Apex schools, 250 backpacks from a charter school in San Diego, 300 boxes of crayons from a Raleigh church, computers from Austin, Christmas toys from Miami, a complete prescription eyeglass "library" from the Lions Club and an ophthalmologist in Orlando, and 100 boxes from American Airlines containing everything from textbooks and dental equipment to soccer balls and uniforms. There was even an autoclave from a Raleigh company that no longer had a use for it.
And there were shoes! A storage unit full of fake Nikes confiscated by the Garner Police Department. Friends of Guatemala volunteers sorted them and sent what they could to the school. The rest were given to other organizations for donation.
As word got around about the little school on the railroad tracks, more and more people wanted to go there to help. "Old friends, friends of friends, entire families and their friends." Over time, volunteers paved the playground, installed a basketball goal, replaced the roof, and gave everything fresh coats of paint.
Volunteers came and went and Colegio HOPE's enrollment grew enough to add fifth and sixth grades. In Apex, Winfrey and the Friends of Guatemala board were taking a good look at relationships.
The Value in Crossing Cultures 
Winfrey envisioned people spending time at the school, getting to know the students and teachers, and forming lasting relationships. That didn't always happen. Plenty of work got done, but the relationships ended when volunteers returned home. So, Winfrey took an educational approach to her group visits, emphasizing the experience of crossing cultures and engaging with the Guatemalans. "We talk a lot about American culture," Winfrey explains, "so visitors can understand the limitations of seeing everything through an American lens. There are things to learn from a culture of extreme poverty, but we don't go to learn. We go to give and to do and to provide and we don't think we can learn anything from them [because] they're poor and not as educated."
By slowing down to share meals and conversation, Friends of Guatemala volunteers get to know their hosts and experience the Guatemalan culture. It also helps curb the Americans' tendency to want to get off the plane and immediately descend on the school to start fixing things.
Winfrey's concerns about poverty and inequality are the driving force behind her support for Colegio HOPE and fostering American-Guatemalan relationships. "I am hoping that my volunteers learn that there is a lot to think about and to do in terms of social justice—right here in Wake County as well as in Guatemala. I don't want them to come back and forget all about that."
Supporting the Teachers
Teacher salaries are needed the most at the school. Colegio HOPE currently has six full-time teachers and annual enrollment typically averages between 200 and 210 students. The teachers earn $10.67 a day and $3,850 covers one year's salary.
How can you help? The Adopt-a-Teacher program. Winfrey says, "We've had families [adopt] as a group. We've had businesses write a check for $3,900 for one teacher and then write it off. We need folks to do that on an annual basis, or simply sign up on our website for an automatically recurring monthly donation. If lots of people do a little bit and we keep working together, we can do so much good." With consistent funding for the teachers, Friends of Guatemala could plan events that engage the community, such as book drives to help establish a library at the school.
Going Forward
A Colegio HOPE teacher said, "We believe in the power of education and affirmation as a way out of the cycle of poverty." Such is the faith that calls these teachers, many of whom travel hours by bus, to teach at a school for less than $11 a day. And while there are children in need of education here at home, Americans have something the railroad track families do not. Opportunities.
As one volunteer put it, "We have free public education, buses to bring us to safe clean classrooms [where they] feed us lunch, and bring us back to our homes, [we have] grants and foundations. There are ways to escape, ladders to climb up and out. On the tracks, there are very few ladders. [Colegio HOPE] is an escape ladder…where kids can get an education and maybe climb out of the hole they were born into through no fault of their own."
Winfrey wants people to know that they can make a difference. "It doesn't have to be a huge thing, or drain their bank account, or take all their time. But there's joy in working together to do something important. If you want to do something meaningful, if you care about children and education, here's an opportunity right in your own backyard working with your neighbors to do something good."
If you would like to learn more about Friends of Guatemala, visit friendsofguatemala.com or the Friends of Guatemala Facebook page. To support a teacher at Colegio HOPE, look for the Donate and Adopt a Teacher buttons on the website. You can also email info@friendsofguatemala.com.