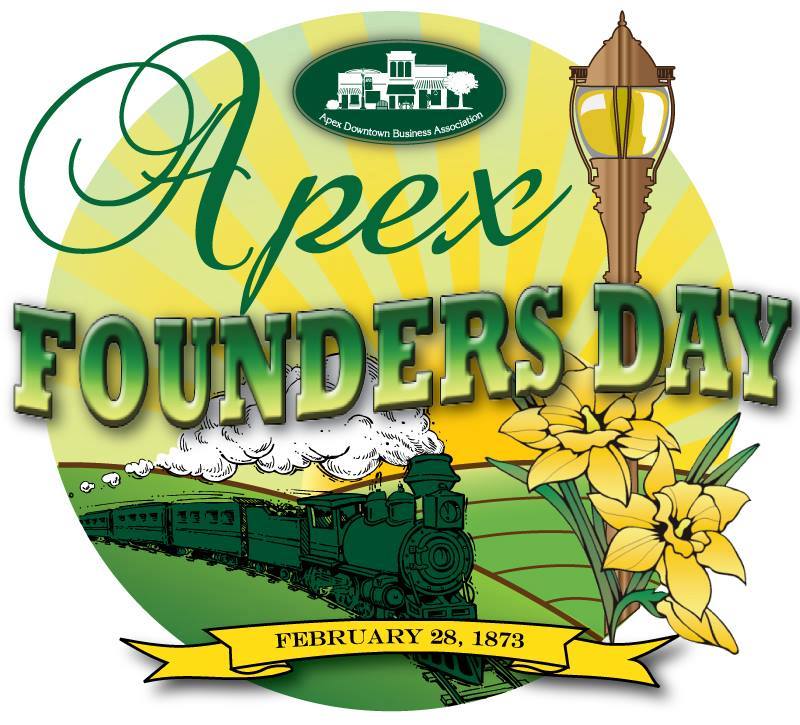 On February 28th, 1873, Apex was officially incorporated as a town in North Carolina. Four years ago, a few citizens of Apex decided to mark this occasion with a Founders Day celebration. The goal of the occasion was to bring the community together and commemorate the rich history of Apex. This year is no different. The 2017 Founders Day celebration once again will be a family-friendly event that allows people of all ages to explore and learn more about the history of the town in a very hands-on way.
Founders Day highlights the history of Apex through various displays of arts, crafts, antique items, and history lessons. The event boasts a full schedule of historical presentations in the Halle Cultural Arts Center. Speakers featured over the last few years have included Toby Holleman, co-author of "Pluck, Perseverance, and Paint"; Bob Crowley, curator of history at the New Hope Valley Railway museum; and local historian and antique expert J.C. Knowles. The 2017 Founders Day speakers are still being decided but regardless of who speaks, it is sure to be educational and interesting.
Along with hearing about historical events, history is brought to life with a display of antique cars, including an old fire engine, along Salem Street. Civil War reenactments and various crafts help visitors connect with the past in a different and meaningful way. Weaving, pottery, quilting, woodturning, and rug-hooking guilds will be set up inside the Halle Cultural Arts Center for an even more hands-on experience. The event, which is sponsored by the Apex Downtown Business Association, will also have a downtown business sidewalk sale for visitors of the event.
For the first time, this year's Founders Day will also include a chili cook-off. Like the other events of the day, this contest is meant to bring citizens of Apex together. It also provides a way to share a different kind of history through special family recipes that have perhaps been passed down through the years. Participants can bring their best pot of chili for the chance to win a prize. Anyone wishing to enter his or her famous recipe into the contest needs to register online.
Along with the aforementioned activities, Founders Day also includes a 5K race that is put on by the Kiwanis Club of Apex. This event began four years ago in conjunction with the Founders Day festivities. The race serves as yet another way to bring people together and give back to the community of Apex.
The Kiwanis Club is a global organization of volunteers that has been in existence for more than 100 years. Their mission is to improve the world one child and one community at a time. The Apex Kiwanis Club serves the local community through various service and fundraising projects and has existed for over 29 years. All the money that the Apex Kiwanis Club raises goes directly to a cause. One of these local causes includes the Club's mission to purchase and hand-deliver dictionaries to every Apex third-grader. This amounts to around 1,500 dictionaries per year each costing between two to three dollars. The dictionaries are delivered to each third-grade classroom and the students are given a short lesson on how to use them. The money raised from the race on Founders Day helps the Club reach their goal.
Over the last three years, the race has gone through a few changes and has started in a different place every time. This year, the course is planned to begin behind the Chamber of Commerce building. Race Director Lee Shanklin explained that the hope is to get this year's course certified which will make it a permanent route. Along with creating a more long-lasting course, Shanklin also discussed the desire to re-brand the race and make it even more of a community event. There are also plans of expanding the route to a 10K.
The main event is a 5K loop but there are also options for those who do not want to run as far. The one-mile run is a great alternative and there is a 200-yard dash for runners who are age six or younger. Registration for these races is online and costs $25 for the early bird sign-up and $30 for registrations past February 1st. Participants in the one-mile run and the 5K will receive a t-shirt with their registration. At the end of the race, the top three finishers for both men and women in their respective age group will win a prize. Last year's prizes were Dick's Sporting Goods gift cards.
While the event is put on by the Apex Kiwanis Club, they also have help from three local high schools. Students from Apex High School, Apex Friendship, and Green Hope High School play an important role in ensuring the race goes smoothly. Last year, 60 students volunteered their time to help. Volunteer roles include: race check-in, hydration station set-up, managing finish line refreshments, directing runners on the course, and general cleanup once the race is over. Anyone outside of these three high schools who wishes to volunteer can contact the Apex Kiwanis Club as they are always happy to accept more help.
This year, Founders Day will take place about a month after the official founding day of Apex. It is on this later date due to the possibility of bad weather near the end of February. All 2017 festivities will be on April 8th. The 5K gets the day started at 8:00am and the events continue throughout the afternoon. Both the Founders Day celebration and the race have Facebook pages and websites with more details as the event gets closer. Although it is only the fourth year of these festivities, they have been met with a good response from all who participate. Hopefully, Founders Day will continue for generations to come, building a sense of community united through a shared history.