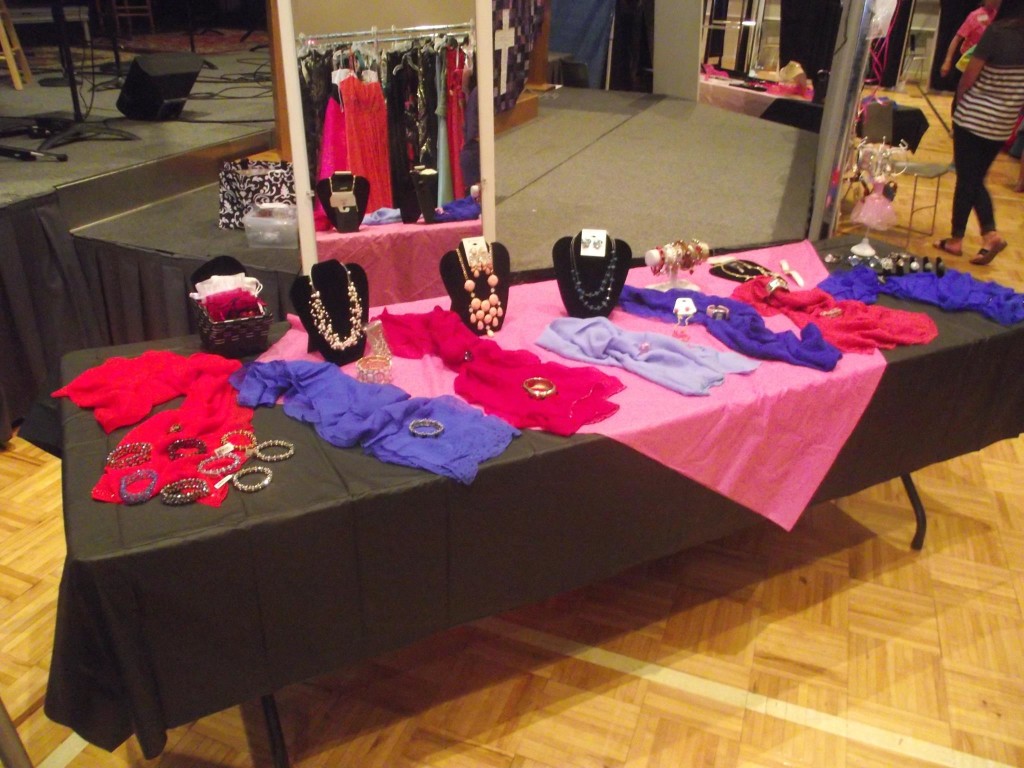 A girl dreams about her prom. Will I have a date? Where will we go to eat? Is a limousine coming to pick me up? Who will be prom king and queen? Who's hosting breakfast afterwards?
Then there's The Dress. Lace or smooth? Beads or sequins? Simple or stylish? Long or short? Strapless or sleeveless? The $200 one or the $2,000 one?
Many girls in and around Apex don't get to make those decisions, because they won't be going to their prom.  When economic circumstances turn a family's budget inside out, a prom gown isn't likely to be on the list of essentials.
Fortunately for them, there is the Apex United Methodist Church (AUMC) Prom Shoppe.
A Special Mission
Every spring, a group of volunteers from AUMC changes lives by giving away prom gowns to girls who would otherwise not be able to afford them. Need shoes to go with the dress? They give those away, too. And jewelry. And a purse. What started nearly eight years ago with a few AUMC members tossing around ideas for a church mission, has grown into an annual two-day event that draws busloads of girls, some from as far away as Greenville.
For mission leader Stacy Kivett, the transformation that happens to the girls is difficult to put into words. "I wouldn't have believed it if I hadn't experienced it myself. Even volunteers who are going through hardships in their own life, they come and help out for a few hours and they leave completely transformed as well."
Five years ago, Kivett heard about the Shoppe and she donated some jewelry. She ended up volunteering for two years before the mission leader stepped down. "I sort of took it over so it wouldn't go away." This will be Kivett's third year organizing the Shoppe and it doesn't seem likely that the event will go away, considering the growing response the mission has seen every year.
At the first event, five or six girls came to a small parlor in the Apex United Methodist Church and selected dresses. The organizers wanted to give it another try and the response was big enough that they moved the event to The Peak, one of AUMC's four campuses.
"The first time I did it," Kivett says, "It was at The Peak. The weather was really bad that year and we gave out maybe a hundred dresses. The following year, it was unbelievable. We gave out 500 to 600 dresses. We outgrew The Peak and moved it back to AUMC, in the gym where we have our contemporary services."
Early on, people heard about the AUMC Prom Shoppe through word of mouth. News spread, for instance, through a church member working at a local high school. When Kivett became the mission leader, the group began using flyers to advertise.
"We put the flyers up at various locations around Apex—like Chick Fil A, since there are so many teenagers that work there." They took flyers to all of the places where they thought young girls in struggling families might go, including the Western Wake Crisis Ministry, Interact, and the foster child program in the area. And, of course, guidance counselors in schools in the Wake County School System, and surrounding counties. Kivett says, "If you hear about us, if you can get here, you are welcome."
At one school outside of Wake County, it was the cafeteria workers that first heard about the AUMC Prom Shoppe. Every year for four years, they, along with parents and school officials, have chartered a bus and brought dozens of girls who they know are receiving free or reduced lunch. Kivett says, "It's really amazing because we form friendships and bonds with several groups that come year after year."
The Dresses 
The dresses and accessories are free. Girls and their families will never be asked to justify their need. "In our minds," Kivett explains, "That's not for us to decide. Only they know if they need it. If they don't, then that's not for us to judge. We are being the hands and feet of Jesus and doing what God would want us to do. That's the mission we have. No matter what their situation is, we want the girls to feel that they're special when they walk in."
Last year, the AUMC Prom Shoppe collected 1,800 dresses—more than ever before. "What people don't realize is that we get absolutely stunning gowns. Every year, we go through them and take out the ones that we think have gone out of style or maybe were damaged the year before. So, we try to have fresh dresses every year." Kivett asks that gowns be from within the last five years, and anything that is unusable or inappropriate for prom will be re-donated. In fact, one of Kivett's committee members repurposes many of them as costumes for local theaters.
Where do the dresses come from? Many come from stores that are going out of business. One prom store anonymously donated 300 new dresses on the first day of last year's shopping event. "We threw them on a rack and they were just flying off!" Kivett says. Short dresses often come from dance companies where the performers have only worn them once. The rest are donated by generous families. "Once we start getting the word out that we're taking donations, dresses will start to come in in droves."
How to Donate
The organizers of the AUMC Prom Shoppe are happy to receive donations of dresses, jewelry and other accessories, shoes, purses, even unused makeup. While items can be dropped off at the Apex church anytime throughout the year, things really get going in January. Members will often drop off donations when they attend services. Or, there are bins in the Christian Life Center and the Discipleship Center. Kivett is hoping to put a collection bin at The Peak location as well.
"We also have been very fortunate to have some merchants in the downtown Apex area that are gracious enough to be collection sites. We'll put some bins out downtown, or with whoever's willing to do it. People can just drop things in [the bin]. If they need a tax receipt, my contact information is there and I can get them tax receipts."
Shopping Days
For the two days that the AUMC Prom Shoppe is open, girls are lined up waiting to get in. There are no appointments, so everything is first-come, first-served. Shoppers wait in the welcome center of the church and Kivett and her volunteers give out group numbers. For safety reasons, one group at a time is taken to the gym where the Shoppe is set up.
Note, however, that only women are permitted in the Shoppe. Seating is provided for the fathers, boyfriends, and other gentlemen who have come along.
Shoppers enter under a balloon arch and are greeted by music, pink and black decorations, and an army of volunteers ready to walk with them and help them pick out dresses. "We try to make it fun and festive. Last year, we had a Step and Repeat backdrop with a red carpet so the girls could take pictures like they do at celebrity [events]. Everything is sorted just like it would be in the store, by size and color. We have little areas where shoes are set up, and makeup, and jewelry. The girls can go around and look at as many dresses as they want."
And just like at any other prom shop, girls can try everything on. Using pipe and drape, tailgate tents and tarps, and preschool classrooms down the hall, girls have access to anywhere from eight to twelve dressing rooms. They can take three gowns at a time into a dressing room in order to keep lines moving and give everyone ample time.
"When they're done, they go through a 'checkout line' where we'll bag everything up for them. We have dress bags, shoe bags, and off they go. We try to make it as much of a shopping experience as we can."
Two-Way Transformations
As shopping experiences go, visiting the AUMC Prom Shoppe is anything but ordinary. There is a wonderful change in the girls and, in many cases, their families. Kivett says, "We get kids who come in sulky sometimes, with the expectation of 'I'm never going to find something here,' and they leave just beaming. The minute they put that first dress on and the volunteers are saying, 'You have to come out and show us,' they will have a gaggle of women around them telling them how beautiful they are, and you see the smiles on the girls' faces. It's not something that's easily put into words."
Kivett adds, "We have had so many moms, and dads even, in tears saying, 'we never thought we'd be able to send her to prom, we never thought she'd be able to go, you don't know what a blessing this is.' While we appreciate that, the real blessing is to us because we get to see this miraculous change in these girls."
There are approximately fifty volunteers who give their time to the event. Some are girls who donated dressed and came back the following year to help. Students from area high schools often help and earn service hours at the same time. Kivett says she can always use more volunteers although it's difficult to predict how busy the shopping days will be, especially in the event of bad weather.
Regardless of the turnout every year, Kivett has seen extraordinary women come to the Shoppe. Some stand out, having affected her in profound ways. One year, a young woman came barefoot because she only owned a single pair of shoes. Kivett helped her select a beautiful dress and extra shoes to take home. The two became friends and the young woman returned to volunteer for the next two years, graduated from high school, and is working and taking classes. Another year, a mother brought her two daughters, one with severe medical issues and the other an outstanding athlete. As they checked out, volunteers learned the extent of the mother's hardships and that she had recently lost over a hundred pounds. With no dress to wear to an annual Make-a-Wish ball, Kivett and her team helped her find a gown of her own.
The Message
For Kivett, the mission and its message are simple: "Every girl deserves to feel beautiful on her prom day. It doesn't matter how many girls show up [to look at dresses], if we help one girl and she walks away feeling beautiful then we have done what we're supposed to do." At the AUMC Prom Shoppe, Kivett and her team make sure that every girl feels important and special—blessed, even—without worry.
Maybe this info can be highlighted in a sidebar with the article?
This year's AUMC Prom Shoppe will be held at Apex United Methodist Church, 100 S. Hughes Street, on Friday, March 24, 2017, from 3:00pm to 7:00pm and on Saturday, March 25, 2017, from 10:00am to 1:00pm.
If you have questions about the AUMC Prom Shoppe or you're interested in volunteering, you can email prom.shoppe@apexumcfamily.org or visit Apex United Methodist Prom Shoppe on Facebook.